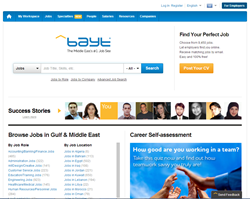 It is very much in the job seeker's interest to ensure that they take a look at what keywords are being used in the vacancy posted by the target employer and to tailor their CV accordingly
Dubai, UAE (PRWEB) February 18, 2014
Statistics from Bayt.com, the Middle East's number one job site, show that on average, 900 online applications can be received for a job vacancy posted. This number can more than double if the job is with an attractive company, a key industry, or a particularly lucrative job market like Dubai or Qatar with thousands of job being created for Expo 2020 and the FIFA World Cup. To increase CV visibility, experts from Bayt.com urge job seekers to tailor their resumes to the criteria of the position they're applying for, not only when applying to jobs in the most lucrative job markets like Dubai, but also for any vacancy posted on Bayt.com around the world.
With the huge inroads that leading job boards have made in dominating the online recruitment arena globally, the job search process around the world has become more efficient, transparent and competitive, and top employers receive hundreds, if not thousands of applications for every job posted. To streamline the applications that make it to the employer's attention, Bayt.com uses a sophisticated applicant ranking system which orders job seekers in terms of their full relevance to the position's exact specified criteria. Bayt.com's highly-innovative applicant-ranking system was just completely revamped to provide employers with even more relevance when posting job vacancies making it more essential than ever for jobseekers to ensure that their CV is highly focused to the job being advertised by matching their skills and keywords to the target vacancy.
"The new revamped Bayt.com applicant ranking system ensures that the most relevant job seekers' CVs make it to the top of an employer's potential candidates list," said Omar Tahboub, VP of Product, Bayt.com. "This makes it essential for job seekers to take into consideration the numerous criteria of the job they're applying for, so that they can tailor their application to best fit what the employer is looking for. Our studies have found that many job seekers do not completely fill out their online CV, which lowers their chances of being seen as a prime and relevant candidate."
There are 13 criteria that Bayt.com's highly sophisticated applicant ranking search engine looks for. These include years of experience, career level, degree, specialities, residence location, job roles, job industries, job description, job title and skills. The search engine matches these to the applicant's CV and ranks candidates by order of exact relevance to enhance optimal matching and ensure top talent and top jobs are better served and employers are sourcing exact fit candidates faster and easier than ever before.
"Filling in every field increases a CV's relevance, thereby improving job seekers' chances of being well positioned in the employer's list of relevant candidates," said Tahboub. "It is very much in the job seeker's interest to ensure that they take a look at what keywords are being used in the vacancy posted by the target employer and to tailor their CV accordingly, wherever it is accurate and relevant, to make it even easier for a potential employer to instantly and easily find them."
The Bayt.com "Modern Job Search" poll, November 2013, showed that for sourcing new candidates, the Internet remains a very important resource, according to 80% of the poll's respondents, and online recommendations and endorsements are considered important by 61.5% of polled professionals. It's also very common for professionals to research candidates online before making a hiring decision, with 41% claiming they 'always' do so, and 38% saying they 'sometimes' conduct internet research on professional candidates.
As far as CV content goes, experience is considered to be the most important element with 25% of polled professionals saying it is most important, in the Bayt.com "Modern Job Search" poll, followed by skills, education, an objective statement, awards, badges and endorsements. The preference is also for CVs that include a picture of the candidate, as claimed by 53.8% of poll respondents.
"Using a job site such as Bayt.com with it structured state-of-the-art CV builder tool, helps job seekers to quickly and easily create organised, well-structured CVs which can be used to apply to the thousands of top jobs advertised on the site daily as well as to create public profiles for purposes of networking and professional branding," explained Tahboub. "Job seekers all over the world visit the leading job boards to look for jobs with top employers on a daily basis, because they are faster, easy to use, and extremely effective. Leading jobsites such as Bayt.com with its community of 15 million professionals empower people with the tools and information needed to make a difference in their lives – by helping match top talent with top opportunity real-time across the industry spectrum and across geographies and career levels."
About Bayt.com:
Bayt.com is the leading online recruitment website in the Middle East and North Africa. With over 15 million registered job seekers (February 2014), we represent all career levels, industries, job roles and nationalities. Bayt.com works with over 40,000 employers, from small businesses to large multi-nationals and governments, to help them successfully attract and recruit qualified professionals and executives every day. Founded in 2000, Bayt.com has become one of the most trusted and respected brands in the region. Over the years, we have won numerous awards of recognition, including the "Leading E-Commerce Website in the Pan Arab Region" by the Pan Arab Web Awards (2007), the "Company of the Year" award by the TECOM Investments Pearl Awards (2009), SME Advisor Stars of Business Awards (2011), and the "Top Companies to Work for in the UAE" award by the Great Places to Work Institute for four years in a row (2011, 2012, 2013, 2014).