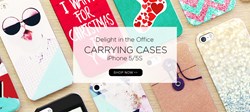 Hong Kong, China (PRWEB) February 11, 2014
As far as Apple gadgets are concerned today, there are hundreds of iPhone cases on the market, and the choice of a typical shopper depends on his or her personal preferences. Bagsq, a store for mobile device accessories, is now set to kick off its Valentine Promo with 95% discounts on varieties of high-quality iPhone cases.
According to the owner of Bagsq, the launches of iPhone, iPhone 3G, and iPhone 4G has led to the development of several cases and covers that help to offer some protection against scratches, moisture, and dirts. In order to offer special discounted deals to its customers, Bagsq will kick off its Valentine Promo on 14 February, 2014; and the promo will end on 17 February, 2014.
"Generally speaking, iPhone cases differ in terms of material, usage, and price. The major difference deals with the kind of material from which they are made. Basically, iPhone cases come in four types based on their material. Today, users can find soft silicone cases, leather cases, aluminum cases, and plastic cases," the owner of Bagsq reveals.
It's further stated that shoppers need to find out the specific features and benefits associated with the available types of iPhone cases on the market. "For instance, most silicone cases come with a combination of a screen protector that serves to keep the screen of the device from damages. More so, the material from which a case is made would influence its price," states the owner of the online mobile accessories store.
In respect of the forthcoming Valentine Promo of Bagsq, which will start on 14 February, prospective customers will be able to find their desirable iPhone cases at greatly discounted prices. The owner of the stores confirms, saying, "All purchases on the storefront of Bagsq will attract 95% discounts, and high-quality is guaranteed on all the iPhone cases that will be available throughout the period of the promo."
For more information on the forthcoming Bagsq Valentine Promo on varieties of iPhone cases that the store will offer at 95% discounts, visit http://bagsq.com.