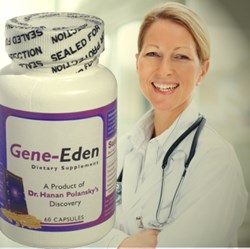 Most teens go around hiding the truth that they smoke, and deny it even when caught. We therefore suggest that if teens are going to smoke anyway, that they also take Gene-Eden-VIR. - Mike Evans, polyDNA
Rochester, NY (PRWEB) February 15, 2014
polyDNA has learned that "The Food and Drug Administration is launching the government's largest effort yet to curb tobacco use among at-risk teens. Many 'at-risk' kids see smoking as a temporary coping mechanism to help them deal with the 'chaos' caused by poverty, violence or family turmoil," according to Mitch Zeller, director of the FDA's Center for Tobacco Products (1). However, these kids don't realize that when they smoke, they inhale carcinogens (cancer causing chemicals), which work together with the human papillomavirus (HPV) to increase the risk of cervical cancer progression. polyDNA therefore suggests that parents talk to their teens about Gene-Eden-VIR, which helps the immune system target the latent HPV. This natural antiviral was proven to reduce HPV symptoms in a post-marketing clinical study that followed FDA guidelines.
Parents should stress to their teens that cigarette smoking among HPV-positive women is one of the factors which may promote cervical cancer progression. For instance, one study found that "Tobacco-specific polycyclic aromatic hydrocarbons such as benzo[a]pyrene (BaP) and nitrosamines such as 4-(methylnitrosamino)-1-(3-pyridyl)-1-butanone (NNK), which are potent inducers of carcinogenesis, have been detected in the cervical mucus of women who smoke and exhibit cervical dysplasias." (See the Journal of Virology, from January 2008) (2).
Moreover, "Quantitative levels of noncarcinogenic nicotine and its metabolite cotinine in cervical mucus were correlated with smoking intensity and were shown to be concentrated more strongly in cervical mucus than in blood. Colocalization of HPV and cigarette smoke carcinogens in the cervix may present an opportunity for virus/ carcinogen interaction (2)." In other words, high levels of nicotine metabolotes in cervical mucus were associated with HPV viral activity. As study authors stressed, "…we demonstrate for the first time that BaP, a major carcinogenic constituent of cigarette smoke, stimulates high levels of virion synthesis in cell lines productively infected with HPV (2)." This means that HPV replicated faster and with higher numbers in the presence of chemicals inhaled with cigarette smoke.
"Parents need to understand that their teens likely won't stop smoking just because they are asked to. In fact, most go around hiding the truth that they smoke, and deny it even when caught. We therefore suggest that if teens are going to smoke anyway, that they also take Gene-Eden-VIR. This natural HPV remedy was proven to reduce HPV symptoms in a post-marketing clinical study that followed FDA guidelines. Parents can learn more at the links below." – Mike Evans, polyDNA
A study published on August 12, 2013 in the peer reviewed, medical journal Pharmacology & Pharmacy, in a special edition on Advances in Antiviral Drugs, showed that Gene-Eden-VIR reduced HPV symptoms. Study authors wrote that, "Individuals infected with the HPV…reported a safe decrease in their symptoms following treatment with Gene-Eden-VIR (3)." The study authors also wrote that, "We observed a statistically significant decrease in the severity, duration, and frequency of symptoms (3)."
To learn more about Gene-Eden-VIR, and HPV visit http://www.gene-eden-kill-virus.com. All orders of Gene-Eden-VIR are completely confidential, and no information is shared or sold to any third party. Privacy is assured.
References:
(1) FDA launches anti-smoking ads aimed at teens. February 4, 2014.
http://www.usatoday.com/story/news/nation/2014/02/04/fda-anti-smoking-ads/5186731/
(2) The cigarette smoke carcinogen benzo[a]pyrene enhances human papillomavirus synthesis. Published in January 2008.
http://www.ncbi.nlm.nih.gov/pubmed/?term=The+cigarette+smoke+carcinogen+benzo%5Ba%5Dpyrene+enhances+human+papillomavirus+synthesis.
(3) Gene-Eden-VIR Is Antiviral: Results of a Post Marketing Clinical Study. Published on August 12, 2013.
http://gene-eden-kill-virus.com/PP_Gene-Eden-VIR-is-Antiviral.pdf
polyDNA is a biotechnology company that develops dietary supplements using the unique scientific method developed by Dr. Hanan Polansky, which is based on Computer Intuition.
In addition to his unique scientific method, Dr. Polansky published the highly acclaimed scientific discovery, called Microcompetition with Foreign DNA. The discovery explains how foreign DNA fragments, and specifically, DNA of latent viruses, cause most major diseases.
polyDNA developed Gene-Eden-VIR, an antiviral natural remedy that helps the immune system kill latent viruses.