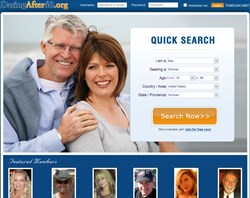 (PRWEB) February 11, 2014
With the Internet more prominent than ever, many are finding a sense of community through community forums, hobby websites, Internet meet-up events, and online dating. There have been many online dating sites created for those with similar interests or lifestyles such as religion, game enthusiasts, movie lovers, and much more. Now an online dating site has launched specifically for those looking for a partner over 40 years of age called Dating After 40 located at the website address, http://www.DatingAfter40.org.
This site designed for those single men and single women over 40 years of age allows users to search in a specific age range, sexual preference, and country or area. Being a member of Dating After 40 is free to join and membership comes with a variety of benefits that include searching for a romantic partner over 40 years old.
The site also features articles and services to help those that are a little rusty on their dating skills due to a recent divorce, death of a previous partner, or even for someone that was just taking a break from dating. Some of these articles and services include a senior counselor, over 10,000 senior dating ideas, email and wink services, verification packages, live support, and safe dating tips and advice.
Not only does Dating After 40 provide these great services and articles for those looking for tips and ideas for over 40 dating, but the site also has some fun resources such as an online forum and blog, greeting cards, and ways to meet local singles.
Those over 40 years of age usually have different life goals and ambitions than those under 35 or 40 years of age. Many in this demographic are more mature in their careers and looking for someone to settle down with; others are more wise and confident compared to those at a younger age. For this reason, many men and women over 40 years old are turning to these specifically targeted market websites.
Users have the ability to upload information about them to create a profile on Dating After 40. Some of this information includes age, location, hobbies, interest, and a profile picture.
Started in late 2013, the site already has hundreds of users around the world that have signed up to meet other singles both locally and internationally. According to the New York Daily News, about one-third of married couples in the United States met each other from online dating. For this reason, many are turning to online dating as an alternate source to meet new people and to find someone that they want to spend the rest of their life with.
Many over 40 find themselves at a different place in their life; a time of achieved goals and simply looking to fill the void in their heart for that special someone that is missing in their life. Now those over 40 can turn to the new site for the need of dating after 40.