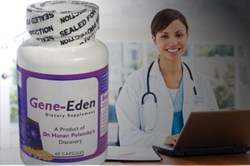 We believe the key to preventing post-herpetic neuralgia is targeting the latent Varicella Zoster Virus. - Mike Evans, polyDNA
Rochester, NY (PRWEB) February 16, 2014
A scientific review showed that acyclovir (aciclovir) does not prevent post-herpetic neuralgia (PHN) (or nerve pain) (1). "Oral aciclovir was the most commonly used antiviral treatment for herpes zoster, and five of the six studies evaluated its effect, with treatment commencing within 72 hours of the zoster rash … Five trials compared oral aciclovir with placebo, and … in the meta-analysis, the incidence of PHN events for the aciclovir group was not significantly different from that for placebo, which indicated that oral aciclovir did not significantly prevent PHN six months after the onset of rash (1)." In other words, acyclovir does not prevent pain following a herpes zoster outbreak.
Dr. Andrew S.C. Rice, MD said, "Among people with PHN, some have their pain resolve in the first year to 18 months after the shingles rash goes away, but if they have pain longer than that, it is not going to go away on its own. In either case, a person must deal with the pain." (See FoxNews.com, from July 26, 2005) (2). Dr. Rice is a pain researcher at Imperial College, London.
According to Rice and his team of researchers, there are a number of medications that can ease PHN pain. These include "Tricyclic antidepressants. These are the older kinds of antidepressant. Those shown effective for postherpetic neuralgia include nortriptyline (Pamelor), desipramine (Norpramin), and amitriptyline (Elavil, Endep). Strong opioids. Those shown effective for postherpetic neuralgia include morphine, oxycodone, and methadone (2)."
However, according to the review of major studies on the subject, "for many people these medications are either partially or totally ineffective, whether administered alone or in combination. With insufficient good quality evidence, there is no recommended first-line topical or systemic management in the treatment of PHN (1)." In addition, antiviral treatment has been widely used to accelerate the resolution of herpes zoster and its complications... (but)… oral acyclovir does not reduce the incidence of herpes zoster pain, or post-herpetic neuralgia (PHN), significantly (1).
"Postherpetic neuralgia (PHN) is a painful, chronic condition that can occur following shingles (herpes zoster caused by the Varicella Zoster Virus), a viral infection that causes a mildly itchy to intensely painful rash." (See WebMD.com's page on post-herpetic neuralgia) (3).
"We believe the key to preventing post-herpetic neuralgia is targeting the latent Varicella Zoster Virus. We therefore recommend Gene-Eden-VIR, a natural antiviral product designed to target latent viruses, which was proven safe and effective in a post-marketing clinical study that followed FDA guidelines." – Mike Evans, polyDNA
In a post marketing clinical study published on August 12, 2013 in the medical journal Pharmacology & Pharmacy in a special edition on Advances in Antiviral Drugs, researchers showed that Gene-Eden-VIR is safe and effective (4). Additionally, up to 70% of those studied reported a decrease in viral symptoms, and users experienced an increase in overall health (4).
Each ingredient of Gene-Eden-VIR was chosen through a scientific approach. Scientists scanned thousands of scientific and medical papers published in various medical and scientific journals around the world to identify the safest, most effective natural ingredients that target latent viruses (4).
To learn more about Gene-Eden-VIR and herpes, visit: http://gene-eden-kill-virus.com/Herpes-Remedy.php. All orders of Gene-Eden-VIR are completely confidential, and no information is shared or sold to any third party. Privacy is assured.
Reference:
(1) Antiviral treatment for preventing postherpetic neuralgia. Published on February 6, 2014.
http://www.ncbi.nlm.nih.gov/pubmed/24500927
(2) Best Treatments for Lasting Shingles Pain. Published on July 26, 2005.
http://www.foxnews.com/story/2005/07/26/best-treatments-for-lasting-shingles-pain/
(3) Managing the Pain of Postherpetic Neuralgia. Last reviewed on July 15, 2012.
http://www.webmd.com/skin-problems-and-treatments/shingles/postherpetic-neuralgia
(4) Gene-Eden-VIR Is Antiviral: Results of a Post Marketing
Clinical Study. Published on August 12, 2013.
http://gene-eden-kill-virus.com/PP_Gene-Eden-VIR-is-Antiviral.pdf
polyDNA is a biotechnology company that develops dietary supplements using the unique scientific method developed by Dr. Hanan Polansky, which is based on Computer Intuition.
In addition to his unique scientific method, Dr. Polansky published the highly acclaimed scientific discovery, called Microcompetition with Foreign DNA. The discovery explains how foreign DNA fragments, and specifically, DNA of latent viruses, cause most major diseases.
polyDNA developed Gene-Eden-VIR, an antiviral natural remedy that helps the immune system kill latent viruses.