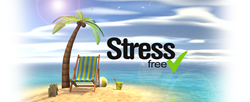 Having NHS England provide their seal of approval validates the benefits of Stress Free and helps consumers trying to make the right health choices.
London, UK (PRWEB UK) 11 February 2014
Stress Free, the latest app from pioneering London technology startup Virtually Free, has recently been approved by NHS England to its list of official health apps. The free iOS app joins a very exclusive list of NHS approved apps which are shown to benefit the health of people in England.
Like all other apps approved by NHS England, Stress Free went through a rigorous testing process to make sure that it was clinically safe and trustworthy to help people manage their health.
"We are very pleased that our app has gained the approval of the NHS. The stringent evaluation process that apps have to go through ensures that only scientifically valid and safe apps are presented to users," said Dr Andres Fonseca, co-founder of Virtually Free.
Stress Free trains users in four tried and tested relaxation techniques; calm breathing, differential deep muscle relaxation, self-hypnosis and meditation. All four have been evidenced by the scientific community for the relief of stress. After learning the techniques, users can do them on their own or use the app to guide them through a relaxation session of their choice.
Dr Fonseca said that there were a lot of apps out there that make all sorts of claims with no proof. "Having NHS England provide their seal of approval is validation of the health benefits of Stress Free and helps guide consumers trying to make the right health choices."
All apps approved by NHS England have been reviewed by the NHS clinical assurance team. The assurance team is made up of doctors, nurses and safety specialists, who work with app developers to make sure apps adhere to safety standards.
"In today's fast paced world, stress is a major issue for a large proportion of people. With this seal of approval by NHS England we hope more people will get access to our app and be able to reduce stress from their lives for good," concluded Dr Andres Fonseca.
About Virtually Free Ltd
Virtually Free (http://virtually-free.com/) develops apps to make therapy more appealing, accessible and affordable. Using gamification, serious games and augmented reality, the company seeks to recreate clinical therapies and bring them to everyone's pocket.
The company was founded in 2013 by two psychiatrists and a game developer. Doctors Russell Green and Andres Fonseca are members of the Royal College of Psychiatrists in Britain and have been helping patients recover from mental health conditions for 15 years. They have multiple peer-reviewed international publications and lecture at Sheffield University and University College London respectively. Richard Flower has developed games for 20 years and worked on major franchises such as Tomb Raider. They founded Virtually Free because they believe it is important to give people tools to improve themselves without having to wait, jump through referral hoops or pay excessive therapy fees.