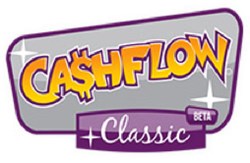 Scottsdale, AZ. (PRWEB) February 10, 2014
The Rich Dad Company offers CASHFLOW Classic for free.
CASHFLOW Classic is the web version of the cult classic board-game, CASHFLOW. This game is so much more than fun as it teaches the player about investing and how to get out of the rat race. While the board game is $195, this exact replica online doesn't cost a thing.
While most personal finance websites offer blogs and boring products to teach their finance lessons, The Rich Dad Company created CASHFLOW Classic. This online game teaches you how to get out of debt, how to build up assets in your portfolio and most importantly, how to get out of the rat race and live your dream. CASHFLOW Classic teaches all this for FREE!
Right now polls show that over 80% of employees want out of their current job but are too afraid or don't know how. CASHFLOW Classic the web game can teach you. Play the game as a janitor, a successful doctor or many other jobs, but players can only win one way… by earning enough cash flow to get out of the rat race.
Robert Kiyosaki, the game's creator and author of the best-seller, Rich Dad Poor Dad, says, "This game teaches what's really important in entrepreneurship and investing. Learn how to build your assets and build your wealth. " You can play CASHFLOW® Classic with up to six players (or BOTS) online. Meet and interact with players who have the same goals and aspirations as you do. Test your skills and strategy against the rest of the world. Robert goes on to say, "I had so much to teach, but couldn't be everywhere all the time so I created the CASHFLOW game. Now getting those life changing lessons out to the world is even greater with the internet."
In addition to playing CASHFLOW Classic for free at richdad.com, you can:

Listen to Robert Kiyosaki's "The Rich Dad Radio Show" online at any time;
Download numerous ebooks at no charge like "Getting Out of Bad Debt" and "Managing Your Money";
Get exclusive insights via Rich Dad's monthly, eNewsletter packed with content related to
investment, finance, small business ideas, and more.
About The Rich Dad Company
The Rich Dad Company was founded in 1997 and is based on Robert Kiyosaki's international best-seller and #1 personal finance book of all time, Rich Dad Poor Dad. Using innovative technology, The Rich Dad Company offers a new way to think about money. Content is delivered via mobile apps, live stream global events, social media, books, seminars, videos, the CASHFLOW® board and Web game, blogs and much more. Visit http://www.richdad.com or call us at 800-308-3585, 480-998-6971 outside of the U.S., to begin your journey to financial success.