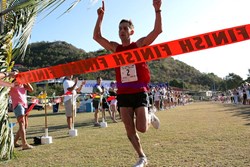 Several of our villa renters will be running in this year's race.
St. John, U.S. Virgin Islands (PRWEB) February 11, 2014
The annual "8-Tuff Miles" road race is scheduled to start just after 7am on Saturday, February 22nd. More than a thousand entrants this year will be hoofing-it (or in many cases huffing-it) over the island's relentless hills.
The small island of St. John, two-thirds of which is a national park, can thank volcanoes from millions of years ago for the challenge. "I trained for months the first time I entered," explains Karen Baranowski, owner of Windspree Vacation Homes, a local villa rental and management company. "Many people will walk the course, or at least the uphill parts. You really need to be prepared to run the hills."
The popular foot race, now in its 18th year, attracts thousands to St. John at the end of February. With local and national sponsors, this year the event directly benefits St. John Rescue, St. John's all-volunteer emergency service. 8-Tuff also helps local businesses, with increased interest in everything from accommodations to activities.
Baranowski, who manages almost 3 dozen homes in the Coral Bay area, explains the appeal. "8-Tuff miles is a great attraction for anyone who loves St. John, especially active nature lovers. Visitors compete in the race one day, and explore the island's historic ruins, award-winning beaches and popular restaurants the rest of the week."
8 Tuff Miles begins in Cruz Bay with a shotgun start and travels to Coral Bay for the finish. Runners who cross the line in the Moravian Church ball field are greeted with cheers, water, fruit and a well-deserved medal (that doubles as a beer bottle opener). This is St. John, after all.
About Windspree Vacation Homes
For over 30 years, Windspree Vacation Homes has rented and managed vacation villas in and around Coral Bay, St. John. Coral Bay is a small peaceful hamlet on St. John island's east side and convenient to the Virgin Islands National Park, where many of St. John's best beaches and hiking trails are located.