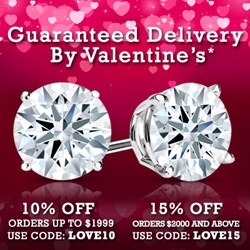 Los Angeles, California (PRWEB) February 10, 2014
With Valentine's Day just around the corner, consumers are rushing to get their loved one's their last minute gifts. DiamondStuds.com has extended their guaranteed Valentine's Day delivery date on all orders placed in the USA. DiamondStuds.com guarantees before February 14th, 2014 delivery on all orders that take place on, or before, February 12th 2013 by 5:00 PM EST some restrictions do apply. DiamondStuds.com is anticipating this announcement will allow more people to take advantage of the Valentine's Day specials offered on the company's website. The discount's are the largest year to date and give customers amazing discounts like 10% off when ordering up to $1999, and 15% off orders from $2000 and above.
About DiamondStuds.com:
Armed with a mission of lasting excellence and superior knowledge about diamonds, DiamondStuds.com focuses solely on diamond stud earrings. The attention to details allows the company to offer their consumers the largest selection of fine diamond earrings online. DiamondStuds.com also provides a huge array of customization options, enabling each individual to create an exquisite pair of studs, halo earrings, gemstone earrings or fashion earrings unique to his or her personal preferences. To learn more about DiamondStuds.com, please browse the website at http://www.diamondstuds.com or visit our Facebook or Twitter pages. Customers can call DiamondStuds.com at 1-855-WOW-STUDS (1-855-969-7883), to speak live with a diamond expert or send an email to info(at)diamondstuds(dot)com.