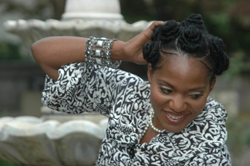 In the end, I am building an empire to help people feel better about themselves, while also encouraging beauty professionals to create wealth and a legacy for themselves and their families.
Cleveland, Ohio (PRWEB) February 25, 2014
Emmy-award winning comedian, Chris Rock, made headlines in 2009 when he took Black women "back to their roots" with his hilarious, but controversial documentary "Good Hair," referring to what he feels is black women's subconscious quest to overcome the burdens of slavery and racism by making their hair straight and silky like white women. Rock parodied Black women's unhealthy use of chemical-laden hair relaxers (referred by some women in the film as "creamy crack"), and the exorbitant amount of money spent on weave extensions of human Indian hair to make their locks appear more in line with society's portrayal of the ideal beauty. But for local businesswoman and philanthropist, Monica Daniely Green, natural hair is no laughing matter. It's a movement, and a business opportunity tied to her philanthropic mission to increase black women's sense of beauty, self-esteem, and pride, by showing them that their own natural hair is, in fact, beautiful.
Green, who was recently named one of Heineken's "25 Influential African American Women," is a native Clevelander, and owner of one of the premier natural black hair care salons in the country, So Curly, So Kinky, So Straight (http://www.socurlysokinkysostraight), located at 4160 Mayfield Road, in South Euclid. She is also a professional speaker, author, professional development trainer, consultant, and founder of the Natural Hair Care and Fitness Expo in Cleveland, which will take place 11:00 a.m. - 7:00 p.m., March 2, 2014 at the new Cleveland Convention Center (300 Lakeside Avenue).
Touting itself as "…much more than a salon," So Curly, So Kinky, So Straight specializes in natural and healthy hair for women and men, as well as makeup and beauty services. The Salon offers a number of natural hairstyles, including cornrows (miniature French braids made throughout the head), Two-Strand Twists (a series of two pieces of hair twisted together all over the head), Ceramic Press Loc Extension (a "new age" press and curl using a ceramic iron), Press-N-Silk (a blow dry process to straighten natural hair), and more. The salon also offers clients value-added services with a holistic beauty approach, catering to their physical, emotional and spiritual well-being through workshops and other events - and much of this will be highlighted at the Natural Hair Care and Fitness Expo.
According to the Wall Street Journal (2012), the Hair Care industry is a $10 billion business. The Black Hair Care industry is valued at $684 million (Mindel 2012), with a growing national movement away from chemically relaxed or straightened hair. "Anytime you don't put a chemical or synthetic in your hair, it's better for you," says Green. "It keeps it stronger, and you're able to do more enhancements, like add color to your hair, with minimal stress," she said. Studies show that many of the chemicals used in African-American hair care straightening products have been found to cause a variety of serious health issues such as breast cancer, heart disease, and cognitive disorders. In fact, the number of Black women who do not use these types of products jumped to 36.0% in 2011, up from 26.0% in 2010.
"The hair care industry is not regulated like other industries," says Green. "Therefore, the long-term side effects of using particular products, is not necessarily known until many years down the line. But one major problem that we do see is premature balding, because the chemicals can actually burn the scalp. So the biggest advantage to wearing natural hair is, it's safer and healthier," she said.
Green intends on making an even bigger mark in the industry that was pioneered by one of her greatest inspirations, Madam C.J. Walker, the first female African American self-made millionaire who revolutionized the black hair care industry in the early 20th century with the invention of a number of hair care products targeted to black women. Not only is Green a salon owner, she is also a partner in the Flawless Barber College on Shaker Square in Cleveland. "I am also in the process of opening one of many Beauty Colleges, as well," says Green. "My long-term plan is to have multiple salon locations and schools across the country. Everything that I'm doing is birthed out of a mission to serve and help enrich other people's lives. What I notice now is, beauty schools emphasize the need to pass state boards, with no focus on entrepreneurship," she said. My ultimate goal is to assist in the manufacturing of a group of leaders and entrepreneurs who will impact the industry in a very positive and educated fashion. I want to transition hair stylists from working in someone else's salon, to learning how to build their own hair care business. "In in the end, I am building an empire to help people feel better about themselves, while also encouraging beauty professionals to create wealth and a legacy for themselves and their families. A wonderful bi-product of all of this will be an increase in employment opportunities, and black ownership, within the hair care industry."
In the 1970's and 1980's, 100% of the companies that produced black hair care products were black-owned. Today, that number is significantly lower at only 30%. Johnson Products was eventually bought out by white-owned company, Proctor & Gamble. L'Oreal now owns the Soft Sheen and Carson brands, and Pro-Line is now owned by Alberto-Culver. And the majority of brick and mortar storefronts (approximately 9,000) are run by Korean and Chinese business owners. "But with sales falling in the black hair care market because of the new "natural" movement," says Green, "there is a great opportunity for African American business owners to regain a larger share of the market, by capitalizing on the growing natural black hair care market. Being a hair stylist is not just something to do because you don't want to go to college. It's a career path or multi-million dollar business in a viable and thriving industry. But if it's not taught that way, we'll continue to see Black women dominate as consumers only, like they are now - purchasing 70% more hair care products than any other group, yet not having any real stake in the industry. Through my barber and beauty colleges, in particular, I am looking forward to showing aspiring stylists all over the nation how to do what I am doing, and build wealth beyond the chair," she said.
In addition to being a successful businesswoman, Green is also the author of the book, "Natural Hair Love Train – The Book," as well as an adjunct business instructor for Cuyahoga Community College. Her philanthropic activities include hosting the annual "Happy to be Nappy" picnic in Forest Hills Park. Green expects to speak at many major international beauty shows this year, and introduce DISC (Dominance, Influence, Steadiness and Compliance) personality training to the industry.
For more information, including the upcoming Natural Hair Care and Fitness Expo, call (216) 938-9537, or visit http://www.socurlysokinkysostraight.com.