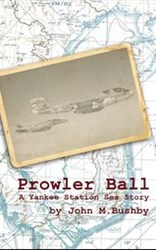 Flanders, New Jersey (PRWEB) February 11, 2014
Prowler Ball – A Yankee Station Sea Story is a novel about the air war in Vietnam. Set in late 1972 during the legendary Christmas bombing of North Vietnam, this is the story of a young naval flight officer and his comrades in arms who flew against the most heavily defended targets in the history of air warfare. These fliers flew the most advanced tactical aircraft of its time, the Grumman EA-6B Prowler, a carrier-based active electronic countermeasures aircraft. Unarmed, the Prowler's job was to accompany US Navy strike aircraft and using its ability to jam ground-based enemy antiaircraft radars and the weapons they controlled, allow the American planes to drop their bombs without being shot down. During the time that the EA-6B's of Tactical Electronic Warfare Squadron 131 based aboard USS Enterprise were flying, none of the ship's airplanes were shot down. Although a novel, the details of the book are based upon the author's personal experiences flying the EA-6B in combat over North Vietnam.
John M. Bushby is the author of several espionage novels including Shadow Soldiers, The Warszaw Express and The Rhinemaiden's Song. All of his books are available at Amazon.com.