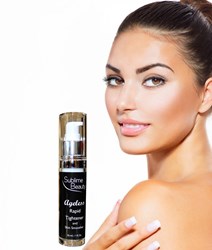 Everyone seems to be "time-challenged" today. Here is a serum that tightens skin fast, but also has ingredients for long-term improvement.
(PRWEB) February 12, 2014
"We are pleased to announce our newest serum, the Ageless Rapid Tightener and Skin Smoother," says Kathy Heshelow, founder of Sublime Beauty®. "This serum joins our Ageless line."
The Ageless product was designed for men or women that want tight, visibly smoother skin fast. Rapid indeed - skin will feel tight in 10 minutes and be completely tightened within 30 minutes thanks to the ingredient Sesaflash®.
Sesaflash® is a new generation tightening agent. Tests conducted by SEPPIC, the developer, showed that 100% of the panelists felt an immediate tightening of the skin. It is well-tolerated by all skin types.
For longer-term anti-aging effects, Renovage® and Matrixyl® are also included. Renovage® addresses all major signs of aging and lengthens cell life, while the peptide Matrixyl® boosts collagen levels in the skin, essential for youthful skin. It is a winning combination.
The Ageless serum and all Sublime Beauty® products are available on Amazon or at the new Sublime Beauty Shop.
The new shop features a VIP Club to earn points for discounts and rewards; free standard shipping in the continental U.S. and product pages rich with videos, product reports and more.
Use coupon code LAUNCH15ALL for a 15% discount on your first purchase at the new store.