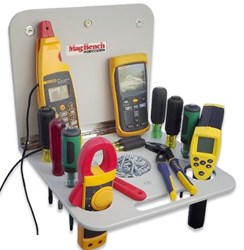 Los Gatos, California (PRWEB) February 10, 2014
The Utility MagBench Workstation and the Security Strap Accessory Kits are now available. The MagBench Workstation product line offers several reliable and easy solutions to solve an everyday need for a secure, easily-accessible place to rest tools, laptop or tablet computers, meters, and many other items on a service call or on the jobsite.
The new Utility MagBench is designed for plumbing, electrical, HVAC, and many other applications that require hand tools. It can also be used for laptop computers and test instruments. It has multiple holes in the front plate to keep your tools in place. There are eight holes total in four different sizes: Two large holes to hold drills, pipe wrenches, meters, snips, and many other large tools; and six smaller holes to hold screw drivers, nut drivers, and other hand tools. There is also a recessed area in the center to place screws, wire nuts, and other small items or even a cup of coffee. The MagBench Workstation can be installed on any steel surface in seconds with just two simple steps: Simply place the MagBench Workstation against the steel surface, and fold down the front panel.
The Security Strap Kit quickly and securely attaches your laptop to the MagBench Workstation to prevent your computer from falling or being pulled off by the power cord or communication cables. Simply overlap the two straps just below the laptop screen, and engage the Velcro® to secure the laptop.
The unique Patent Pending design using Neodymium magnets provide extremely strong holding power. The Standard and Mini models include rubber anti-slide pads to help anchor your tablet or laptop. With its nearly indestructible design incorporating stainless steel hardware and UV-rated Marine grade HPDE plastic, the MagBench Workstation will provide years of service.
"As an HVAC service mechanic and Pipe Fitter working here in Silicon Valley, I use my Utility MagBench Workstation every day. It's great for rooftop service calls and also for prefab and fit-up on zone control valves, and for holding my fittings, flux, and tools. Now I can keep all of these parts and tools at waist level instead of on the floor or roof. I mount it on the side of any mechanical equipment or the side of my gang box and I'm ready to go to work. It's a real time saver," said Greg Kane, HVAC Tech and Pipe Fitter for Local 393 (http://www.ualocal393.org/).
"Working in the commercial air conditioning trade for over thirty years, I frequently had the problem of having a convenient and safe place to set my tools and expensive meters and gauges. Most of the time, my only option was the roof, floor, or ground. In the last ten years, the use of laptop or tablet computers to diagnose, program and test PLC and HVAC control panels and units has become a necessity, increasing the need for a reliable workstation. After extensive searching, I was unable to find any solutions on the market, so I decided to develop and manufacture the MagBench Workstation right here in America. I know that these products will be beneficial to you and save you a lot of time and frustration on the jobsite," said Steve Fisher, Inventor of the MagBench Workstation (http://www.magbench.com).
Magnitude Products, LLC, (http://www.magbench.com) is a product development company that provides inventive and creative solutions for many different industries. Located in Silicon Valley, we are constantly looking for innovative ways to make life easier.
Contact:
Steve Fisher, Owner and CEO
Magnitude Products, LLC
Steve(at)magbench(dot)com
Phone: 888-519-2160