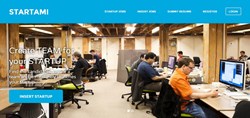 The real problem for startups are not investments but the team. With Startami you can find members for your startup or work for one of them.
(PRWEB) February 18, 2014
One of the biggest problems for start-ups is the creation of a team. Many start-ups do not get investments because their team is incomplete. Similarly, people with great ideas fail to complete a project because developers are not willing to join a team in exchange for share capital.
How exactly does Startami work? The service was created to put start-ups in contact with potential candidates. Interested users can sign up for their free account at http://www.startami.com and browse resumes and open positions from job candidates. Interested users can also submit their own resume in hopes of being picked for a team.
Simone Ricucci, the 23 year old CEO of Startami, explains the idea: "We faced team problems like many other start-ups, and found that this issue is often underestimated. Startami wants to solve many of the problems faced by start-ups by connecting prospective entrepreneurs who have a great idea with other professionals to create a team. Thanks to Google Maps, users can pinpoint relevant professionals in their area! Once an entrepreneur has found a person they are interested in, he or she can contact that user immediately, which means that work could potentially start the very next day.
"Startami.com is the best solution for job seekers. Entering into a large company nowadays is not an easy task; thankfully, there are fewer barriers in creating start-ups. Many people do not know that there are start-ups looking for photographers, dog-sitters, and other types of professionals who are eager to launch their projects. Without Steve Jobs, Steve Wozniak would not have been able to give life to Apple Computers. There are many talented people around the world, but often they are unable to meet. Startami makes that encounter possible."
Startami's goal is dual, and combines the two most important needs of this today's job market: to support innovative start-ups, and to increase jobs.