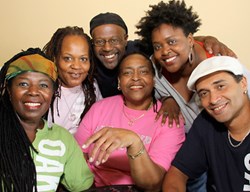 If you love the glory of the human voice, round, warm and sweet, it is all here.
San Rafael, CA (PRWEB) February 17, 2014
The Cultural Heritage Choir is led by San Franciscan Linda Tillery, a Grammy nominated vocalist, producer, arranger, speaker, and self-taught ethno-musicologist.
For the past 16 years she has dedicated her artistic life to the research, teaching, and performance of the great African-American oral tradition of song, stick, and story - the ancestor of today's American popular song.
Performing together since 1992, the Cultural Heritage Choir creates dynamic rhythms and sparkling energy on stage. Their vocals are lush and vibrant; their performances are poignant and uplifting.
What: Linda Tillery and the Cultural Heritage Choir
When: Sat, April 5 @ 8:00 pm. In the Hoytt Theater
Where: The Osher Marin JCC, 200 N San Pedro Rd. San Rafael, C From Highway 101 is effortless, ¼ mile E off 101
Parking: Free, on & off site
Tickets:: $20 - $22 | $25 at the Door
Open cabaret-style tables and theater seating.
The Kanbar Center for the Performing Arts is the Performing Arts Department within the Osher Marin Jewish Community Center in San Rafael, California. For over 20 years we have spread the power of music, voice, humor, taste, culture, movement and words throughout the community by presenting classical music, club style dancing events, comedy, musical concerts, theater and performance in the grand Hoytt Theater, lectures, chats and demonstrations in the Kurland lounge and great world music & dancing for all ages outdoors under summer skies on Swig Field. All are welcome; no membership is required to attend. The Center is a long-standing Marin non- profit, centrally located in Marin County and just 1/4 mile east off Hwy 101