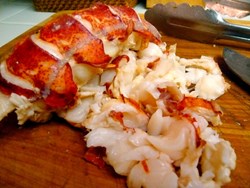 (PRWEB) February 11, 2014
In a Livestrong article published January 18, 2014, Louise Tremblay reports that Maine lobster is "a welcome addition" when considering sources of protein to replace red meat, adding that lobster is part of a health-conscious diet. This is welcome information, not only to people looking for healthy food options, but to the lobster industry as well.
"It's exciting to see this kind of education around lobster," says Mark Murrell, owner of GetMaineLobster.com. "Lobster has many positive nutritional values. Dressed up or down, it's a delicious, natural option. Articles like these help to inspire people."
According to Tremblay, lobster has many dietary advantages. She cites that a 6-ounce portion provides 28 grams of lean protein that offer cell-boosting amino acids, but only 1.2 grams of fat.
Tremblay adds that lobster is loaded with minerals for healthy bones and skeletal health, reporting that a 6-ounce serving of lobster provides 274 milligrams of phosphorus and 140 milligrams of calcium -– 39 percent of the recommended daily phosphorus requirement as well as 14 percent of the recommended daily calcium intake. In addition to bone-building qualities, calcium also supports nerve health.
The health benefits continue, as lobster nourishes the brain by boosting intake of choline and vitamin B-12. One serving of lobster provides 120 milligrams of choline and 2.1 micrograms of vitamin B-12 (or 88 percent of the recommended daily B-12 intake).
Tremblay explains that choline supports the production of neurotransmitters (compounds that aid in brain communication) and maintains the health of cell membranes. Vitamin B-12 helps maintain myelin, a substance that plays an important role in coating the nerves while also promoting red blood cell function.
"A recent USDA study showed that Americans are seeking a healthier diet," says Murrell. "We have always promoted lobster and seafood as part of a healthy lifestyle. We assist people in selecting and cooking lobster, and offer many free recipes that help serve up a healthy meal."
With all these benefits, Tremblay reminds readers that it is often the butter and sauces that add the calories and fat to lobster. Instead, she suggests serving lobster steamed and seasoned with cracked black pepper or grilled and topped with fresh salsa – for example, a mix of mango, pineapple and cilantro. GetMaineLobster.com offers many recipes for lobster, including this Lobster Tail Salsa option. Lobster leftovers? Tremblay recommends lobster sandwiches made with whole-grain bread, or using the lobster meat to add protein to a favorite salad.
About GetMaineLobster.com
GetMaineLobster.com, a division of Black Point Seafood and Black Point Gourmet, hand-selects the finest Maine lobster, seafood and beef products for convenient distribution throughout the United States. Their passion is to make fresh, quality seafood readily available to customers across the country, which is why they buy from only the most trusted, well-established suppliers to ensure that they receive the finest products available.
GetMaineLobster.com was selected out of the more than four million small American businesses served by Chase bank to represent its new Platinum Business Checking product for its 2013 national advertising campaign.