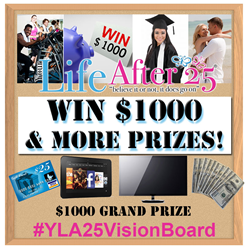 We're always looking for great ways to reward our community, what better way than to reward people for achieving their goals. It also serves as another form or community inspiration.
Atlanta, Ga (PRWEB) February 25, 2014
With 2014 underway, many people are still trying to reach their New Year's Resolutions while many others have already given up. In fact, only one in eight people will keep them for the entire year.*
Your Life After 25, a women's blogazine working to entertain, educate and empower, is on a mission to increase New Year's Resolution statistics by encouraging people to create a Vision Board – a tool that can be used to visualize goals with symbolic images.
Men and women who create a vision board will also have a chance to submit them online for the blogazine's #YLA25VisionBoardGiveaway from now until Dec. 31, 2014 for a chance to win a prize each month. The Vision Boards can be posted via the entry form on Your Life After 25 or Facebook, or through Twitter and Instagram using the hashtag #YLA25VisionBoard. Entry photos can be a full vision board or images they would put on their Vision Board for a chance to garner votes and win prizes. The participant with the most votes each month will win a $25 gift card, a Tablet in April and a flat screen television in September. A grand prize winner with the highest number of 2014 votes will receive $1,000 in early Jan. 2015.
To create your Vision Board, here is a simple step-by-step DIY instruction guide:
What You Will Need:
cork board
poster board
pictures (magazines clippings, images from the web, etc)
glue or push pins
scissors
Step 1: Choose a theme and plan
Make a list of things you would like to include on your vision board. Think about your goals and aspirations. Dig deep and do some soul searching.
Step 2: Find your pictures
Here's the fun part! Look through magazines, online or even pictures you may have taken. Find the ones that best represent your goals.
Step 3: Fun with scissors
Now you get to cut out your images if needed.
Step 4: Quotes and affirmations
Write or type your quotes, affirmations or phrases that correspond with the images of your vision.
Step 5: Glue or Pin
Once you have mapped out where you want your images and affirmations on the board, now you can either glue or pin them to the board.
Step 6: Hang Your Board
Placement of your board is essential, so be sure to hang it somewhere where you can view it every day with ease.
Step 7: Visualize and Affirm
Be sure to view your board daily, think about your vision and affirmations.
*Another great option – make a digital vision board that you can print
About Your Life After 25
YourLifeAfter25.com (YLA25.com) is a lifestyle and women's blogazine working to "Entertain – Educate – Empower." Its mission is to assist women to get rid of the old expectations of who you should be by the age of 25 and celebrate who you will be after 25. Your Life After 25 is about living life to the fullest when society makes one think and feel like it's all down hill from there. Your Life After 25 covers many topics from women's issues, relationships, fashion, food, women in business, and causes like rape/domestic violence and suicide prevention awareness.  
Founder Da Vinci, who has also been a featured blogger for Blogads, and Co-owner Dante Trimble, are currently working on events and launching more exciting YLA25 projects.
For more information, please visit http://www.yourlifeafter25.com
Follow us on Twitter, Facebook, Pinterest and Instagram @YourLifeAfter25.