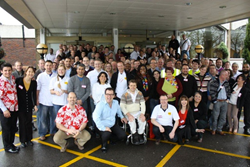 ...the last thing any property investor needed was to accumulate a mountain of debt they were unable to service
(PRWEB) February 11, 2014
As London's housing prices continue to accelerate, UK real estate industry experts continue to warn of bubble conditions. But Australian property millionaire, Rick Otton, has announced that the most pragmatic way to leverage boom conditions is to adopt property investing strategies that work in any location and any cycle.
The EY Item Club, an influential non-government forecasting group that provides detailed and independent economic analysis, has warned that the capital city's housing prices are pushing the market towards "bubble-like conditions".
The average London house price rose by 11.6 per cent year on year, according to figures from the Office for National Statistics. This compares to 3.1 per cent in the rest of the country outside London and southeast England.
Economists from the EY Item Club have called on the Government to cap the amount house buyers can borrow against any particular level of deposit.
Mr Otton agreed with this approach, saying the last thing any property investor needed was to accumulate a mountain of debt they were unable to service.
"I'll show you how to buy a house with my proven property system, even if you have no cash, credit or experience," the Australian property millionaire said.
"My low-risk/high-reward strategies are for seasoned and novice investors who want to make the most out of UK property using a creative and diverse toolkit of systems. These exciting techniques may sound impossible, but they can be used by anyone to buy a property without a new bank loan, mortgage or cash to invest in!"
How to really invest in property
Mr Otton said many traditional property investing techniques were based on fallacies.
"A case in point is that we're usually told that buying a property has to be a long, drawn out process lasting weeks, or even months. This is not true. How do I know? Because I have personally been able to buy 76 properties in 12 months using a 24 hour deal-closing system," he said.
"Not only have I bought over 300 properties in total of my own, but I've also trained and mentored some of the world's most successful investors."
The property investment mentor said Britons could choose to either attend his 2014 Zero-Debt Property Cash Flow Bootcamp to gain hands-on experience of his insights, or access an introductory Power Property Profits Pack on his UK website.
The latter is a complimentary resource that gets people started through digital downloads comprising videos, cheat sheets, reports and other valuable information.
Access Mr Otton's free downloadable Power Property Profits Pack at RickOtton.co.uk/FreePack, as well as the details of early bird pricing for his next UK 3-day real estate training conference in March 2014.
About Rick Otton
Rick Otton is a property investment professional who, over the last 23 years, has introduced innovative real estate strategies to the UK, Australian and the United States. His creative 'low-risk, high-reward' approach to buying and selling houses is exemplified in his own business, We Buy Houses.
This year marks the 10 year anniversary of Mr Otton introducing his strategies to the UK, and the 5 year anniversary of his innovative 'Buy A House For A Pound' process – one that attempted to be emulated by others. His constant process of strategy refinement, and adapting to the ever-changing real estate market, continues to place him at the forefront of property investment education.
In 2012 Rick Otton published his Australian book 'How To Buy A House For A Dollar' which was named in the list of Top 10 Most Popular Finance Titles for 2013. A UK version is on the drawing board for publication in 2014.
Mr Otton freely shares insights into his non-bank-loan strategies that have allowed everyday UK men and women to beat the rental cycle and have their own homes. He coaches others on how to build profitable businesses by facilitating transactions that focus on the needs of potential buyers and motivated sellers.
Access his free downloadable Power Property Profits Pack at RickOtton.co.uk, and the details of early bird pricing for his next UK 3-day real estate training conference in March 2014. Phone enquiries in the UK are welcome on 0207 000 1027.