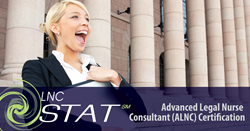 "We encourage nurses to do their research before choosing a Legal Nurse Consulting certification. There are many choices out there, but very few can offer the training nurses need to find success in this industry." - Veronica Castellana
Tampa, FL (PRWEB) February 11, 2014
Nurses everywhere are trading in their scrubs for business suits. They are tired of long shifts with little appreciation for their knowledge and experience. Expanding their career into the area of Legal Nurse Consulting has become a great solution for nurses. They can use their medical expertise to analyze and interpret medical records in legal cases. Unfortunately, many of the training courses and certifications available fall short in offering the proper training nurses need to successfully practice as a Legal Nurse. Luckily, for the nurses who complete RN MARKET's LNC STAT course, this shortcoming does not hold true.
The LNC STAT course certifies nurses as Advanced Legal Nurse Consultants (ALNCs) and offers them hands-on training proven to be effective for any ALNC who puts it to work. Of the nurses who completed the LNC STAT course, utilized RN MARKET's Ultimate Marketing Tool Kit, gave a solid effort to put everything to work, and took advantage of RN MARKET's Unlimited Mentoring, a staggering 95% received a case. RN MARKET offers the LNC STAT Case Guarantee because of this fantastic success rate. Nurses simply follow the steps to put what they learned to work and they will get a case. If they do not get a case and show that they put forth a legitimate effort, RN MARKET will offer additional training at no cost. The free training offered is tailored to the weaknesses of the Legal Nurse. No other Legal Nurse certification is able to offer this unprecedented guarantee or match LNC STAT success rate. RN MARKET reminds nurses not to fall for the hype when choosing an educator. The success rate of a course's graduates is the only real indicator of the quality of a course.
Visit http://www.LNCSTAT.com for more information about the LNC STAT course by RN MARKET.