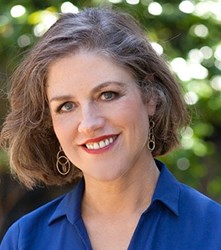 "What I learned from cancer is that courage is taking steps in the right direction and refusing to indulge in worry even when you are terrified."
(PRWEB) February 14, 2014
"…With Ms. Bogart, you get the message, 'I am a musician. I love these pieces and want to share them with you.' … she has technique to burn … the work[s] on [her] CD are little gems collected by Ms. Bogart, and they will bring a smile to your face… because they are so zany and infectious."

Lynn Bronson, California Music Teacher
"… delightful… BRAVO!"

David Dubal/ Program Director, WXQR, New York
Just seven years ago, Berkeley, California native and breast cancer survivor Rebecca Bogart was completing the third phase of chemotherapy and admiring her newly-regrown eyebrows. Now, she's getting up at 5:30 a.m. to prepare for a solo performance at Carnegie Hall as a First Prize winner in a renowned and highly-regarded international piano competition.
Bogart submitted a recording to the Adult and Professional Division of the 2013 Bradshaw & Buono International Piano Competition on a whim, drawn to that particular competition because it was one of the few that had no age limit. She was stunned when a panel of judges awarded her First Prize, which was a performance at Carnegie Hall. "When I got the news that I was a winner, I was thrilled, but also terrified. I hadn't practiced piano since my cancer diagnosis in 2006 and suddenly, I needed to prepare for the biggest concert of my life," Bogart admits.
She tackled the task with her signature determination, getting up ten minutes earlier each morning in order to be on New York time before her departure. During early morning practice sessions, she learned and memorized her two virtuoso pieces, Sergei Rachmaninoff's "Liebesleid (Love's Sorrow)" and contemporary female American composer Manna Zucca's "Valse Brilliante." And now she is polishing them up in preparation for several trial-run performances before she heads to New York City.
Like so many other self-employed artists, Bogart struggled financially during cancer treatment. The challenging side effects of surgery, chemotherapy and radiation left her only able to work part time for a year. She refinanced her home to cover living expenses, but could not afford the payments once the loan adjusted. Though her bank agreed to a modification after 18 months of heavy negotiation, she was forced to file bankruptcy to manage her significant remaining debt while increasing the hours she spent teaching piano at her own studio and seeking new ways to generate income.
She stumbled across the Bradshaw & Buono competition while doing online research on ways to promote her 2001 CD American Piano Retrospective. Bogart says, "I'm amazed that this bucket list item came to pass after my doctor declared me cancer free. I can't wait to see what life will hand me next!" She adds, "What I learned from cancer is that courage is taking steps in the right direction and refusing to indulge in worry even when you are terrified."
A playful, engaging recitalist and recording artist, Bogart received her Masters of Music from San Francisco Conservatory of Music and has been helping students discover their love for the piano for over 30 years. Bogart's ability to channel the distinctive voice of each composer as well as her brilliant technique, rhythmic vitality and drive to explore the piano's emotional range allow her to sculpt the music into a gripping story that invite audiences into her colorful inner world.
Bogart has also been a prize winner in the Pacific and Ibla International Piano Competitions, earned the Alfred Hertz Fellowship from UC Berkley Department of Music and has been honored by the Carmel Music Society. She has played for audiences in Italy and as a soloist at California-based venues such as the Dance Palace in Point Reyes, Fort Bragg Concert Arts and with the Palomar Symphony Orchestra and the San Francisco Concerto Orchestra. She founded the Pacific Piano Trio after receiving a grant from the Gualala Arts Association and performed at Chamber Musicians of Northern California workshops, Rossmoor and Old First Church with the Contra Costa Chamber Orchestra. An esteemed teacher, Bogart has also given master classes at Harvard University, Northeastern University, Trinity International University in Deerfield, Illinois and at Lewis and Clark College, Portland State University in Oregon and has been a welcome presenter at the California MTAC Convention.
For more information about Rebecca Bogart and to read her blog, "From Chemo to Carnegie," visit her artist website at rebeccabogart.com and her studio website at rebeccabogartpianostudio.com. You can purchase her debut album, An American Piano Retrospective directly through iTunes, Amazon and CDBaby.
The February 23rd Artists of the Alexander and Buono Master Class Series concert will also feature fellow artists Aidin Ashoori, Steven Boyce, Tao David-Infield, Ailun Ding, Gelun Ding, Nobel Ding, Samantha Garofalo, Sasha Kroutoi, Alessandra Lampietti, Ying Li, Evelyn Matei, Kaoru Miyauchi, Thomas Nickell, Nico Paradysz, Sol Rivera, James Serventi, Eric Spiniello and Audrey Vanderslice. Tickets are $40 apiece and can be purchased through the Carnegie Hall website.