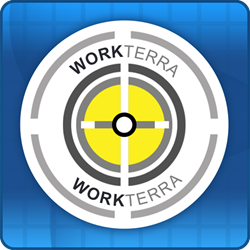 WORKTERRA is consistently investing in their tool to make it the best it can be and stay ahead of the market needs. - Nick, Balestriere, Product Owner, OnlinEnroll, UnitedHealth Group
(PRWEB) February 10, 2014
WORKTERRA, the industry's most robust cloud-based benefits enrollment application, and UnitedHealthcare work together to provide UHC clients with the most user-friendly, flexible and streamlined online enrollment application in the industry.
WORKTERRA was built on the ideas of usability, customization and innovation and is continuously improving its application through client feedback and suggestions. Being a 100 percent proprietary company, WORKTERRA is able to work directly with clients completing updates and change requests in real-time, eliminating unnecessary wait times and providing clients with instantaneous results.
"One of the most important reasons we chose WORKTERRA was their drive and openness to continue to improve and add features to an already impressive site." Says Nick Balestriere, Product Owner, OnlinEnroll, UnitedHealth Group. "Having been in this market for a few years, I have seen many tools built to a good current state, then not evolve with the marketplace. This is a space that constantly needs new features due to carriers creating new plan types, evolving employee engagement and government regulations. WORKTERRA is consistently investing in their tool to make it the best it can be and stay ahead of the market needs."
WORKTERRA utilizes the latest technology to streamline all aspects of the benefits enrollment process creating a single key, paperless environment for employers. Simplifying essential but complicated processes, WORKTERRA provides clients an application that enables increased productivity of staff by freeing up time, avoiding redundancy and reducing errors. Electronic file transfers are gathered and managed in one space, regardless of how many carriers a company may offer.
"Our partnership with UHC for the past 2 years has been one of our most successful. The WORKTERRA application is continuously evolving and being improved upon due to government regulation and client feedback. The OnlinEnroll team has been an excellent partner and great supporter of WORKTERRA. We appreciate their continued loyalty to the application and welcome the ideas and feedback received. We look forward to even greater success in 2014 and beyond."
By partnering with WORKTERRA, United Healthcare is able to provide their customers with an industry leading online enrollment application, ensuring an easy to use benefits election process. Through UHC's OnlinEnroll, employees are guided seamlessly through the benefits enrollment process with the help of various decision support tools, customizable communication tools and personalized benefit options. Employers and employees are provided real-time access 24 hours a day, 7 days a week, to manage their benefits elections.
"We were looking for a tool that could drive the employee through the enrollment process while also providing them all the provider links, plan summaries and decision support tools they need to determine the plans most appropriate for them." States Nick. "We were also faced with having to support a broad market of employers from 200 to 30,000 lives all with varying needs, making flexibility a top priority for us. WORKTERRA allows us the flexibility to use the same tool regardless of the size of customer, which has been a tremendous benefit to our organization."
About UnitedHealthcare UnitedHealthcare is dedicated to helping people nationwide live healthier lives by amplifying the health care experience, meeting consumer health and wellness needs, and sustaining trusted relationships with care providers. The company offers the full spectrum of health benefits programs for individuals, employers and Medicare and Medicaid beneficiaries, and contracts directly with 780,000 physicians and care professionals and 5,900 hospitals and other care facilities nationwide. UnitedHealthcare serves more than 40 million people in health benefits and is one of the businesses of UnitedHealth Group (NYSE: UNH), a diversified Fortune 50 health and well-being company.
About EBS - WORKTERRA Founded in 1987, Employee Benefit Specialists, Inc. (EBS) provides state-of-the-art online enrollment and benefit administration services. In 2005, EBS used its considerable experience in benefits administration and technology knowledge to create its proprietary WORKTERRA™ online eligibility system. WORKTERRA is a HIPAA compliant, SAS70 certified, cloud based platform that utilizes the latest technology to bring together all functions of benefits administration into one application. Our proprietary, flexible approach supports automated integration to carriers and payroll systems, which creates a single key, paperless environment for our clients. It allows clients to manage their human resource functions more smoothly in an easy-to-use, technologically forward system.
For more information about EBS and WORKTERRA, please visit us at http://www.workterra.com
Copyright © 2012 Employee Benefit Specialists, Inc.