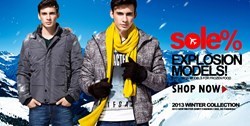 (PRWEB) February 12, 2014
Recently, Skmen.com, a well-known clothing manufacturer, has added its some of the best men's hoodies its product line. Apart from that, the company has also started to provide great discounts on all these top quality clothes. All new and old clients can enjoy the low rates and get discounted shipping fees before February 26, 2014.
The CEO of the company says, "We are very happy to show our new designs of men's hoodies. The promotion is launched to show appreciation to customers at home and abroad. I have confidence in our new products. You know, our company is a distinguished clothing manufacturer and retailer in the world."
"Our various kinds of high quality clothes are all offered at affordable prices. A lot of our items, including sexy club wear, wedding dresses, men's trench coats, Chinese traditional clothes are very popular in the global market," he adds.
Skmen.com wants to make its online shop a one stop platform for worldwide gentlemen to get fashionable clothes. Its online category has been updated and simplified in the recent days. As a result, the current purchase process is more convenient. The experienced and considerate company is always striving to make things easier for clients from around the world.
About Skmen.com
Skmen.com, a China-based company founded in 2009, is one of the leading suppliers of men's and women's high quality clothes. It has more than 5000 customers from every part of the world; it hopes to help worldwide stylish ladies and gentlemen. For more detailed information about the company and its wonderful items, readers can visit http://www.skmen.com/product-hoodies-sweatshirts-009007.aspx.