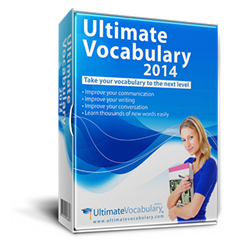 ...want to offer all users, no matter what their operating system, a chance to improve their vocabulary with a wide range of activities and games.
New York City, NY (PRWEB) February 12, 2014
Ultimate Vocabulary™ is soon to be released for Mac, according to a recent statement by software development company eReflect. The company leaked some photos of the software in an OSX environment to let Mac users get an idea of how the software will look like and feel on their Macs. After an overwhelming number of emails and queries asking about the release of the software for OSX, eReflect decided to offer a sneak peek of what Ultimate Vocabulary™ in OSX looks like. Mac users are welcome to give their feedback on these pictures and let eReflect know their opinion.
The official Ultimate Vocabulary™ blog features three spy photos of the software, finally putting an end to speculations by interested users about what the software looks like in the Mac version. As the insider photos reveal and eReflect confirms, the Mac users of Ultimate Vocabulary™ will be able to enjoy all features and tools that Windows users are already enjoying. The developers of Ultimate Vocabulary™ want to offer all users, no matter what their operating system, a chance to improve their vocabulary with a wide range of activities and games.
After months of anticipation, Mac users can finally catch a glimpse of the Ultimate Vocabulary™ for OSX and make an informed decision regarding its purchase. An official release date is yet to be confirmed, but Mac users can be reassured they will soon be able to download and practice with Ultimate Vocabulary™ on their Macs and Macbooks.
With these photo leaks eReflect wishes to thank every Mac user who has been asking about the Mac version of Ultimate Vocabulary™ in the last few months. The photos are a gift for all Mac users, who will be happy to know that the vocabulary software will no longer be a privilege of Windows users only. eReflect reminds Mac users that the software is to be released soon, thanking all Mac users for the continuous support and patience in eReflect's educational software development program.
For more information on how you can benefit from Ultimate Vocabulary, please visit its official website, http://www.ultimatevocabulary.com.
About Ultimate Vocabulary™
Ultimate Vocabulary provides a proven and powerful platform, built to improve anyone's vocabulary.
The interactive self-improvement system provides more learning tools than any other program on the market, as well as more information on words.
The Ultimate Vocabulary software provides each and every user with a personal computer tutor. Providing a step-by-step guide to learning a powerful vocabulary, Ultimate Vocabulary is the learning tool everyone can benefit from.
Of course, the software is also backed by eReflect's iron-clad money back guarantee.