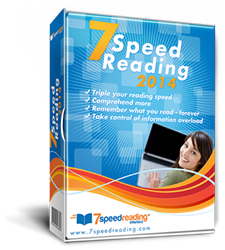 Learning new skills, acquiring relevant knowledge, and honing existing capacities are all essential skills in modern times.
New York City, NY (PRWEB) February 12, 2014
Learning new skills, acquiring relevant knowledge, and honing existing capacities are all essential skills in modern times. People strive for self-growth both as a lifestyle philosophy and as a necessity required by today's information-driven society. John Rhodes of AffiliateHelp.info recently spoke with eReflect's 7 Speed Reading™ software creators about the possibilities of efficiently acquiring new knowledge.
The ability to cope with an uncertain employment environment, the ever-increasing competition for scarce jobs, and the need many people have to continually evolve personally and professionally all boils down to one skill, says Rhodes: the aptitude to absorb large amounts of information in little time and without sacrificing comprehension. The pursuit of quality knowledge is a reality for many people and during these times when it is increasingly impossible to keep up with all the new developments, speed reading proves to be the must-have 21st-century skill.
There are several ways to increase speed reading capacity, and in the interview these options are discussed. For example, it's possible to go through online free courses, or choose to use a 7 Speed Reading™ download from eReflect. In the interview, Rhodes notes that reading speed improvement software helps people to accumulate valuable knowledge fast, giving them a head start in their industry or professional niche. In every profession, the more a person knows, the better they become at their job. To get the most out of what the Internet has to offer both as a knowledge pool and as a potential source of income, such as through affiliate marketing, speed reading helps to gain knowledge fast and then invest time in putting that knowledge into practice.
The discussion with Jon Rhodes emphasized how central information and information literacy is nowadays in achieving professional goals and staying ahead of the game. Those investing in knowledge that is of high quality and relevant are the ones more likely to succeed. The adage "knowledge is power" has never been more true than in the 21st century. Skills such as speed reading are only expected to become more central as information and knowledge keep on multiplying with an accelerated pace. eReflect welcomes any initiative by teachers and parents who teach the value of knowledge and information literacy to their children at a young age, and encourages the use of all speed reading resources available to help in that pursuit.
For more information about the benefits of using 7 Speed Reading, please visit the official website at http://www.7speedreading.com.
About 7 Speed Reading™
7 Speed Reading is the only modern speed reading software that uses the latest technology to produce superior results.
The software provides its users with a new way to master speed reading that guarantees three times the reading speed along with improved memory and comprehension.
The software is poised as the most comprehensive speed reading system anywhere. It contains seven learning strategies, fifteen software activities, video training, advanced tracking capabilities and many more exciting features.