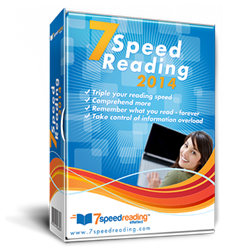 Success is a matter of stepping outside a personal comfort zone.
New York City, NY (PRWEB) February 15, 2014
Barry Baines reveals to 7 Speed Reading™ users and blog readers how self-confidence is the key to success and explains how speed reading might have a role to play in people's pursuit of success and fulfillment. Success is a matter of stepping outside a personal comfort zone. By challenging and pushing outwards into uncharted territory, it is possible to find new roads to success. Risk and failure are always lurking, but people don't achieve anything by remaining static or being afraid of change. Barry Baines explains to 7 Speed Reading™ blog readers that each person's individual values and goals need to be in sync for success to be achieved. When the two diverge, there's a gap that cannot be overcome. But when the two are in place and in perfect harmony, then the person gathers the self-confidence they need to make those goals a reality.
The underlying principle behind success is knowledge, something the discussion with Barry Baines revealed. People who manage to gather substantial and pertinent knowledge over the years are the ones who succeed. The more people learn in any area, be it a new skill, a new language, or the latest news in their professional field, the more confident they are, and the easier it is for them to achieve their goals. In this fast-paced information era, speed reading proves to be a central skill, as more people realize how difficult it is to stay on top of the constantly increasing body of knowledge that's updated on a daily basis. Knowledge, as Barry Baines explains, is one way to achieve self-confidence, simply because (as everyone agrees) knowledge is power.
7 Speed Reading™ software developer eReflect believes that self-confidence can be described as the encouraging voice in a person's head that believes and supports that person's goals wholeheartedly. All people need to do is suppress their inner critic and let their internal supporter shine through. Self-confidence and success are two mutually reinforcing and interactive powers, and the more a person has of the former, the more they get from the latter - and vice versa.
For more information about the benefits of using 7 Speed Reading, please visit the official website at http://www.7speedreading.com.
About 7 Speed Reading™
7 Speed Reading is the only modern speed reading software that uses the latest technology to produce superior results.
The software provides its users with a new way to master speed reading that guarantees three times the reading speed along with improved memory and comprehension.
The software is poised as the most comprehensive speed reading system anywhere. It contains seven learning strategies, fifteen software activities, video training, advanced tracking capabilities and many more exciting features.