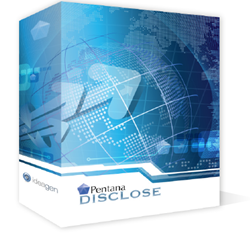 Pentana has been the leading provider of Financial Disclosure Checklists for over 20 years (...) The new website is the first of a number of initiatives that we are taking. We have a very exciting journey ahead."
Matlock, Nottinghamshire (PRWEB UK) 11 February 2014
The new website is home to Ideagen's industry-leading disclosure checker software, Pentana Disclose. Following on from the acquisition of Pentana in November last year, Ideagen has extended its software portfolio to the accountancy and finance sector. With the launch of the new website, the company is set to boost sales within its new division via specially developed around accounting standards, checklist solutions.
Stuart Hewitson, Ideagen's Pentana Disclose Content Manager comments, "Pentana has been the leading provider of Financial Disclosure Checklists for over 20 years. With the acquisition of Pentana by Ideagen and the launch of the new Pentana Disclose website we are re-affirming our commitment to offering high-quality, good-value content to our customers to support them in their application of accounting standards. The new website is the first of a number of initiatives that we are taking. We have a very exciting journey ahead."
Pentana Disclose is an automated financial disclosure tool used by experienced accountants to assist audit professionals in their day-to-day work. It provides an efficient and effective way to support the expertise for entities that are preparing for the implementation of the new standards.
This financial disclosure solution from Ideagen enables the tailoring of the checklist through selecting only the disclosures that are relevant. This way, the user saves time, cost and mitigates risk.
The Pentana Disclose checklists cover IFRS for non-UK companies, IFRS for UK companies and Australian IFRS. All three versions assist the user in determining whether financial statements comply with the disclosure of such financial standards, as IFRSs, IASs, IFRICs, SICs, AASBs and UK GAAP (including FRSSE).
As well as the standards above, Ideagen's Pentana Disclose software, covers SORPS for Charities, LLPs, Academies, Registered Social Landlords and further and higher education.
Ideagen's financial disclosure checklists are used by 8 out of the top 10 accounting firms, including PwC, BDO, Grant Thornton, Baker Tilly and PKF International. The checklists are also used by leading global companies.
With the launch of the Pentana Disclose website, Ideagen is also pleased to announce a series of its free-to-attend public webinars which will include hints and tips on how to effectively use the software as well as areas that have been previously addressed with the Support Team.
Delegates can book their place onto the up and coming webinars via the following link >> http://www.pentanadisclose.com/Events.
Moreover, Ideagen has also set up special webinar sessions for users of the ICADC and KMAD checklists wanting to move to Pentana Dsiclose.
Users can reserve their place via this link >> http://www.pentanadisclose.com/Events.
Stuart Hewitson adds, "I am looking forward to being able to actively engage with our customers in focused webinar sessions to help them get the most out of Pentana Disclose. I encourage all Pentana Disclose users to register for these webinars. I also encourage potential users to register for a webinar to see how Pentana Disclose can help them with their financial disclosure burden."
The website can be found at http://www.pentanadisclose.com, on Twitter and LinkedIn.
Pentana Disclose software can be purchased via the following link >> http://www.pentanadisclose.com/Pricing.
-Ends-
NOTES TO EDITORS
Ideagen Plc is an eGRC software development business specialising in information management solutions for organisations that operate within industries that are subject to high regulatory standards. As authors of an excellent portfolio of software products, the Group provides complete content lifecycle solutions that enable organisations to meet their regulatory and quality compliance standards, helping them to reduce costs and improve efficiency.
Ideagen solutions encompass compliance management software tools and professional services. The software tools include supply chain performance and internal auditing, risk management, document control and change management, CAPA, process mapping and analysis, all of which are designed to provide efficient management and improved performance. Ideagen's customers benefit from customised training services offered by Ideagen consultants who have more than two decades of experience in working within the global regulatory landscape.
The Group has shown excellent growth, both organically and through strategic acquisitions, and is listed on The London Stock Exchange AIM market (Ticker: IDEA.LN).
For more information, organisations can contact Dominika Jankowska at dom.jankowska@ideagenplc.com.