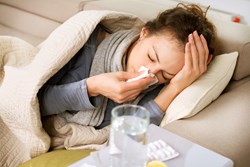 Rest and re-hydration are the most important tools for recovery.
London (PRWEB UK) 10 February 2014
Scientists have found that taking flu medication increases the amount of virus in the body and becomes infectious to others.
Having a fever actually reduces the amount of virus in the body, because the high temperature is the body's natural response to subsiding the symptoms of flu. Drugs like ibuprofen, aspirin or paracetamol actually make the sufferer more infectious leading to tens of thousands more influenza cases and even deaths.
Superintendent Pharmacist at ChemistDirect, Omar El-Gohary said: "According to the researchers at McMasters, paracetamol or anti-inflammatory medicines like aspirin and ibuprofen reduce symptoms of fever leading to higher levels of the virus in the infected person. This will lead the infected person to feel better and therefore go into school or work – and this is how the virus can spread."
Scientists in America have proved that suppressing the fever increased the number of annual cases by around five per cent, corresponding to more than 1,000 additional deaths from flu in a typical year across North America. (http://bit.ly/1ixqhhU)
Around 4,700 people die every year in England from the flu, with people in the 'at-risk' group, such as pregnant women or young children, being 11 times more likely to die of it than someone not in an at-risk group.
Doctors are urging people to stop relying on over the counter drugs, and try more natural methods such as getting plenty of sleep and eating hearty soup. (http://bbc.in/1l5FNCl)
El-Gohary added: "Rest and re-hydration are the most important tools for recovery. Stay inside and keep warm. Echinacea may also help to boost the immune system and reduce the length of the flu or cold."
If the symptoms of flu do not subside after two weeks of resting or the individual is pregnant, elderly, an infant or suffering from a long-term medical condition then they should seek medical advice.