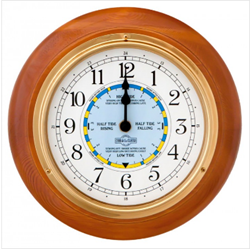 This stunning time and tide clock measures 28cm (11") and comes in the finest plantation pine golden oak timber.
Melbourne, Australia (PRWEB) February 12, 2014
COBB & Co. Clocks is an Australian manufacturer renowned for its signature range of hand-crafted brass and wooden railway clocks with a style that is conjured by nineteenth century Australia. Recently, the company launched its latest wall clock design – one that is perfect for nautical enthusiasts and those involved in coastal and sea activities. The new design is the COBB & Co. Time and Tide Wall Clock.
The time-tide wall clock features quality quartz movement mechanism that ensures accuracy and reliability for time and tidal changes. The clock measures 28cm and is made from plantation pine timber with a golden oak finish. The clock is encased with bezel that is made from 100% solid brass which gives the clock a unique, shiny finish that is long-lasting and rust-resistant.
The distinctive feature is the ability to tell time as well as to show high tide, half tide falling, low tide and half tide rising. The clock measures tidal changes (for the location set) by keeping track of the moon's apparent motion around the earth. Tides all over the world rely on the cycle of the moon; for this reason the time-tide clock will work anywhere in the world as long as the tides are regular.
A standard clock shows 12:00 when the Sun is directly overhead (thus depicting noon) and it shows midnight when the Sun is on the opposite side of the Earth. Similarly in a tide clock, it shows high tide when the moon is directly overhead or on the opposite side of the Earth.
Along with the new time-tide wall clock, COBB & Co. Clocks boasts a diverse collection of timepieces to suit various occasions. Aside from the popular traditional railway clock replicas, their collection includes the unique wood, stainless steel and leather wristwatches, wood and brass range of barometers, pendulum clocks and mantle clocks.
For more information and details on the range, images and availability please visit the website at http://cobbco.co.uk/cobb-co-time-and-tide-clock.html.
About COBB & Co. Clocks
COBB & Co. Clocks is a manufacturer of prestigious, reliable and high quality clocks, with headquarters in Melbourne, Australia. Their range includes wall clocks, barometers, personalized clocks, pendulum clocks, mantle clocks and many other timepieces.
Combining the conventional traditions of watchmaking and modern technology, COBB & Co. timepieces have clean lines, an elegant style that is inspired by nineteenth century Australia and an emphasis upon functionality and high standards of excellence.
All COBB & Co. timepieces are handcrafted in Australia using high quality materials and come with an unrivalled COBB & Co. lifetime guarantee. Solid plantation pine is used to house the timepieces and finished pieces are encased in solid brass bezel. For superior accuracy, all clocks are engineered by quartz mechanism which ensures the clocks will be accurate to within 10 seconds per year.
COBB & Co. Clocks
Phone: +613 9532 2955
Fax: +613 9532 2056
Email: sales(at)cobbcoclocks(dot)com