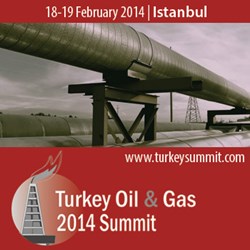 It's an IRN Summit!
London, United Kingdom (PRWEB UK) 10 February 2014
Governmental Officials from the Turkish Government, including Dr. Reha Aykul Muratoglu, the Head of Transit Petroleum in the Pipelines Department at the Ministry of Energy and Natural Resources; Mr. Baris Sanli, the Deputy General Director at the Directorate General of Energy Affairs at the Ministry of Energy; and Mr. Selami Incedalci, the General Manager at the Directorate of Petroleum Works at the Ministry of Energy and Natural Resources, will be giving Keynote Speeches at the Summit.
International companies such as Repsol Exploración SA, Genel Energy, Kuwait Foreign Petroleum Exploration Company (KUFPEC), Socar Turkey Energy, TransAtlantic Petroleum, Svenska Petroleum, Shell Enerji, First Energy, Nexans Turkey, Foster Wheeler, IHRDC, Merit Energy, and EMENA International Finance Corporation (IFC) will be participating, along with national companies such as TPAO, BOTAS, Yerbil Petroleum, Enerco Enerji, Tiway Turkey, Hergüner Bilgen Özeke Attorney Partnership, IHRDC, Akin Law Office, Esin Attorney Partnership, Calik Enerji and many others.
Globally established experts from the Mediterranean Observatory for Energy and the IEA International Energy Agency, International PPP Platform Turkiye, United Nations (UNECE) International PPP Centre of Excellence, and Harvard University will be speaking, along with key experts in the Turkish hydrocarbons from Turkey Association of Petroleum Geologists, Istanbul International Center for Energy and Climate, the Turkish National Committee from the World Energy Council and others.
Furthermore, amongst the media reporting from the Summit will be the Wall Street Journal, Platts, The Oil & Gas Year, The Business Year, Thomson Reuters, Bloomberg News, Monthly Energy Update, Energy Intelligence Group and others.
The Turkey Oil & Gas 2014 Summit is sponsored by Akin Law Office; the Law Firm Hergüner Bilgen Özeke; and the worldwide leader in petroleum training. It is supported by the Turkish Association of Petroleum Geologists, the Turkish Association of Natural Gas Importers and Exporters, the International PPP Platform – Turkey and the Turkish and Romanian National Committees of the World Energy Council.
More information can be found on the website http://www.turkeysummit.com