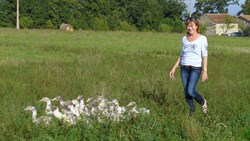 "The only requirement," says Annie, "is a real desire to relax and enjoy food. I will show you how you can slow down your life and learn how to take better care of yourself."
(PRWEB) February 11, 2014
Annie will share her passion for cooking and eating healthfully, as well as her strong commitment to living The Slow Life. In addition to hands-on cooking classes and meals shared at Annie's table, enjoy visits to open-air markets and local restaurants; excursions to explore the region; wine tastings; and all-around pampering, including relaxation techniques, spa treatments, and massages.
Groups are limited to three people to ensure individualized attention. Sessions begin in the spring of 2014 and are priced at an all-inclusive fee of $3,750. (Travel costs are not included.)
Please visit Annie's website at http://www.slowlifeinfrance.com for details.