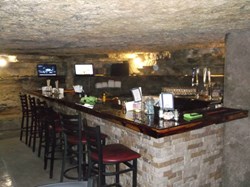 Lanagan, MO (PRWEB) February 10, 2014
The Cave Bar & Grill is a truly unique dining experience inside a section of Truitt's Cave. It is located in Lanagan, MO near the city park. The walls, floor and ceiling are all natural. The Cave Bar & Grill also has a tour of an adjacent cave that delves 680 feet back into the mountainside complete with stalagmites, stalactites, fresh water springs and dark recesses.
The Truitt's Cave Dining Chamber opened in 1940 and has had a long history of welcoming diners over the decades. This unique experience includes warming by a 90 foot natural flue fireplace, watching one of the 8 TVs, playing a game of pool, or sitting at the handcrafted cedar bar playing KENO.
On warmer days, diners can enjoy sitting on the patio watching TV, playing pool under the cliff of the cave, or sitting on the edge of the stream and cooling their feet in the water that comes out of the cave (58 degrees). Customers can also enjoy watching goats romp on the rock wall located next to the patio.
Recently the owner renovated the interior and reopened the dining chamber. "The owner turned to Restaurant Furniture Supply for commercial chairs because of their reputation for excellent quality at affordable prices" explained sales person Chris K. "He opted to go with the Ladder Back Metal Bar Stools with a black frame finish and wine vinyl seats. It's one of our most popular bar stools across America. As a busy bar and grill he needed a classic bar stool that they knew would be durable and stand up to heavy usage without getting wobbly or breaking, like a bar stool not constructed for commercial use would tend to do," Chris K. said.
Restaurant Furniture Supply's Ladder Back Metal Bar Stool is currently on sale for $54. The padded seat is made in the USA and comes in vinyl or fabric in many different colors. A custom seat can also be upholstered in any material for an extra cost. In addition to the padded seat which the owner selected, the chair also comes with the option of a wood seat in cherry, dark mahogany, walnut, natural and black finishes. A custom finish can also be made. The frame comes in black, gold, copper vein, silver vein or gold vein.
Restaurant Furniture Supply also makes a matching Rounded Ladder Back Metal Chair which is on sale for $35. Many of their chairs can be paired with matching bar stools so restaurant owners can create a more cohesive look. Currently Restaurant Furniture Supply is offering free shipping on an order of 16 Rounded Ladder Back Metal Bar Stools or 24 Rounded Ladder Back Metal Chairs.
Browse Restaurant Furniture Supply's full selection of commercial grade chairs, bar stools, table tops, table bases, booths and patio furniture at http://www.restaurantfurnituresupply.com/or talk to a customer service representative at (888) 346-9992.
The Cave Bar and Grill is located at: 313 Main St. in Lanagan, MO. They can be reached at (417) 454-5933.