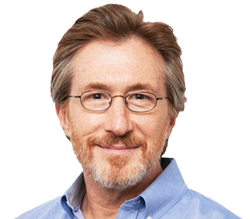 Newark, NJ (PRWEB) February 10, 2014
Brick City Development Corporation CEO Lyneir Richardson today announced that Donald Katz, Audible founder and CEO, will assume the chairmanship of the development organization, succeeding former deputy mayor for economic development, Adam Zipkin. BCDC is the primary economic development catalyst for Newark, and seeks to grow jobs and enterprise, engender real estate development, attract new companies and entrepreneurs, and create wealth for all Newarkers. Mr. Katz has served on the BCDC board since 2010, in which time the economic development organization has been key in creating an unprecedented rise in new construction, investment, and company attraction.
"As BCDC looks forward to company and job growth opportunities that can enhance the lives of all citizens of Newark, Don's leadership and technology-driven economics expertise will help clarify and strengthen the mission of our organization," said Richardson. "Don led the relocation of Audible's global headquarters to Newark in 2007, and Audible has since become the fastest-growing private employer in the city, increasing its workforce by fivefold. A consistently vocal and eloquent advocate of job growth creation in Newark, Don has the vision to engage the city's future leadership and to shepherd BCDC into Newark's next era."
"This is a new era. Don's vision and leadership will make BCDC a force for dynamic economic development in Newark for years to come," said Mayor Luis Quintana. "Don's commitment to Newark is deep. Since he moved Audible to Newark, his company has grown by leaps and bounds, providing jobs for Newarkers and growing our tax base. Don's business experience and dedication to raising up all Newark citizens economically aligns perfectly with BCDC and our mission."
"I consider Audible's move to Newark one of the best decisions we've made as a company," said Katz. "Opportunities to attract young companies that will grow jobs in Newark abound, as do next-generation training programs and job growth that can help Newark's manufacturing economy. A focused BCDC can play an essential role in connecting Newark to the job growth economy, and with that increase our tax base to support services and investment in a better future."
Since its inception, BCDC has demonstrated an excellent track record for achieving goals in small business development, real estate and business attraction, and is particularly proud of the following accomplishments:
Leveraged over $443 million in state and federal incentives and funds to Newark projects and lent over $14.5 million to Newark small businesses and developers; provided technical assistance to over 700 aspiring entrepreneurs and small businesses; facilitated major real estate and business attraction projects that have created over 5,000 jobs, attracted over $2 billion in private investment, attracted or retained 45 companies, and created close to three quarters of a million square feet of industrial space; organized 17 groundbreakings, ribbon cuttings or lease signings for transformative projects since 2011 alone.
"Newark's transportation advantages, its convenience to New York City, its many cultural amenities and the presence of more than 40,000 college students should all accrue to the creation of a vibrant growth economy environment," Katz added. "Newark continues to be an ideal place to connect with the thriving tech company, which creates fast-growth young companies, jobs, and creates housing and entertainment opportunities that can reach into all neighborhoods. Audible has thrived in Newark, and I hope that the company's growth can become emblematic of what could happen for other new businesses in the city."
Audible, an Amazon subsidiary since 2008, is the world's largest seller and producer of downloadable audiobooks and other spoken-word content.
For more information on Brick City Development Corporation (BCDC) please visit our website at http://www.bcdcnewark.org
About Brick City Development Corporation
Brick City Development Corporation (BCDC) is the primary economic development catalyst for Newark, New Jersey, organized to retain, attract and grow businesses, enhance small and minority business capacity, and spur real estate development within the city.
BCDC initiates and executes economic development activities to produce and sustain economic growth, generate jobs and create wealth for the citizens of Newark. Our team serves as advocates within the City's municipal structure and provides a hands-on client management approach.