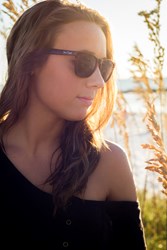 Richmond, VA (PRWEB) February 11, 2014
Far Out Sunglasses was created by recent college grads Chase Jones and Charlie Wilson in 2013. The team paired up with a shared interest in mind: to create a brand with a classic style, and a reasonable price tag. Everyone knows a good pair of sunglasses is hard to come by, and Far Out has fixed that. Their wayfarer sunglasses line is similar to that of bigger brands, but at a quarter of the price tag. With the success of their initial line of sunglasses, they have decided to launch their brand new polarized sunglasses line on Indiegogo, which offers snap hinged arms, and polarized lenses for additional eye protection.
Their new snap series makes it easy to snap off the sunglasses arms, and snap them onto a different pair. This creates an endless number of combinations for any color outfit you decide to wear that day. On top of that all their sunglasses feature polarized lenses and a memory frame plastic that can withstand massive amounts of pressure.
Far Out decided to launch their new line on the crowd funding website Indiegogo first to help raise money to get samples and further the design, colors, and materials they will be using in their snap series. As a reward for helping them launch their new line they will send you a pair of the first production run.