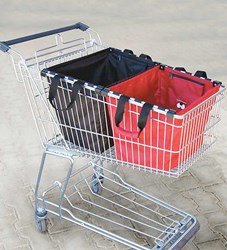 With its unique and portable design, this versatile reusable bag is perfect for an urban resident.
Madison, VA (PRWEB) February 11, 2014
Reuseit.com encourages those in cities with new restrictions on disposable bag use and consumers looking to reduce plastic bag waste to shop with the Earth friendly company's Reisenthel EasyBags.
2014 marked the arrival of plastic bag bans and fees in various cities and counties across the United States. On January 1st, Los Angeles became the largest city in the U.S. to adopt a plastic bag ban, joining the ranks of San Francisco, Seattle, Portland (OR), and Austin, among many others.
States are also taking action to reduce disposable carrier bag waste. A December 2013 Huffington Post article reports that Hawaii will become the first to implement a statewide ban on plastic bags when Oahu's plastic bag ban begins in July 2015—an action leading states like California and Rhode Island to discuss similar statewide initiatives. For more up-to-date information on disposable bag bans and fees, be sure to visit Reuseit.com's list of implemented single-use bag legislation.
Reuseit.com's Reisenthel EasyBags help conscious consumers ditch plastic bags with ease. The bag unfolds and attaches to the inside of a shopping cart for time-saving grocery packing, hassle-free checking out and unpacking. The EasyBag's innovative design allows the reusable bag to collapse when empty, and roll into a small 14-inch by 2-inch pouch—ensuring that customers won't forget their reusable bags en route to the store. Each EasyBag costs $19.95, is made of tear-resistant polyester, and has an 8-gallon volume.
"With its unique and portable design, this versatile reusable bag is perfect for an urban resident," said Allison Kinney, Brand Manager of Reuseit.com. "You can easily travel by foot, bike, bus or train with an EasyBag; when rolled up, the bag neatly fits into a backpack or tote."
As a European vendor, Reisenthel reusable bags are available in only select U.S. retailers. Through Reuseit.com's partnership with 1% for the Planet, the company donates 1% of sales each year to organizations devoted to the preservation and restoration of our natural environment, like American Rivers, Surfrider Foundation and Rainforest Alliance.
About Reuseit.com:
Reuseit.com offers items for sustainable living, including the "best of the best" reusables to help eliminate disposables from your life—from bags and bottles to lunch, household items and beyond. By casting a critical eye and delivering facts and solutions, we continue to guide consumers to take little conscious steps that will lead to big environmental impact.