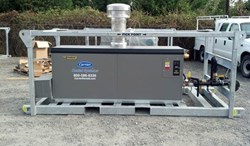 Turn to Carrier Rentals not just for your rental cooling solutions but for power generation, dehumidification and heating as well!
Bridgeview, IL (PRWEB) February 11, 2014
Carrier Corp was founded in 1902. The company was founded by Willis Haviland Carrier in Buffalo, New York. He is considered to be the modern inventor of air conditioning. The company has been the world leader in the manufacture and sale of heating, ventilating, air conditioning, HVAC systems and products.
Headquartered in Farmington, Connecticut, Carrier Corp is located in over 172 countries and has over 43,000 employees. Carrier Corp combines its global HVAC and refrigeration expertise with the responsiveness of its local operations to lead to nearly every geographic market.
Carrier Rental Systems is a division of Carrier Corp. Additionally, Carrier Rentals prides itself on delivering turnkey-solutions rather than just renting equipment. Their knowledgeable staff takes the time to become thoroughly acquainted with their customers, their facility, and their specific needs. To Carrier Rentals, quality and customer care go hand in hand.
This is why Carrier Rentals is excited to announce that they now have new 50 HP boilers available to rent for industrial applications. With these boilers, there are more opportunities for industries in need.
The new 50 HP boilers are now available to rent. The boilers are perfectly sized for typical commercial and light industrial applications. Primary uses are as follows: emergency boiler failure response, comfort heating, and process heating. The new boiler can also be connected to an air handler to heat larger open spaces. Carrier Rental Systems also inventories indirect-fired and direct-fired heaters to handle all other heating applications.
"Turn to Carrier Rentals not just for rental cooling solutions but for power generation, dehumidification and heating as well!" said Tremper Longman, Marketing Analyst at Carrier Rental Systems.
Carrier Rentals is proud to have another crucial heating, ventilation, and air conditioning system which can be used for commercial buildings, light industrial applications, and more. For various industries, Carrier Rentals has supplied many commercial buildings with heaters, air conditioners, cooling towers, dehumidifiers, pumps, and much more.
To learn more about the 50 HP boilers, visit the Carrier Rentals at http://www.carrierrentals.com. Feel free to contact Tremper Longman by his contact phone number at (860) 284-3984.