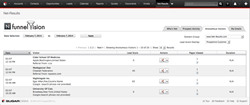 "The power of sales and marketing working as one is critical to maximizing growth."
Golden, CO (PRWEB) February 10, 2014
Net-Results, the leading marketing automation platform for SugarCRM users worldwide, has announced that their award winning marketing automation platform is now seamlessly integrated with the latest version of Sugar. For over three years Net-Results has provided a seamless integration, named FunnelVision, to Sugar at no additional charge, and the Sugar 7 integration is one of the first provided by a MAP vendor.
The Net-Results SugarCRM Integration enables salespeople to understand their leads and contacts better with a full view into their activity history as they interact with their website, landing pages, email campaigns, webinars and other digital activities. Sales can also send trackable emails through Sugar to gain greater insight into the behaviors of their prospects. "Our customers demand the best solutions and platforms for their marketing and sales teams. With Net-Results and Sugar we know they are getting two technologies that provide a seamless flow of data and information in order to maximize sales," said Tom Symoens, Managing Director of The CRM Warehouse.
"We are excited that Net-Results has updated its seamless and powerful integration between Sugar 7 and their marketing automation platform to further empower individuals in sales and marketing towards driving greater revenue growth for their organizations," said Clint Oram, co-Founder and CTO of SugarCRM. "The power of sales and marketing working as one is critical to maximizing growth."
The Sugar 7 integration comes at no additional charge to Net-Results subscribers, and allows for an unlimited number of Sugar users included in the subscription. This is part of Net-Results' "One price, entire platform" model. For more information on this model, please visit http://www.Net-Results.com/SugarCRM.
About Net-Results
Net-Results helps companies increase revenue growth and improve sales efficiency with powerful lead management solutions for marketing and sales. Its distinctly unique Segment-Driven™ approach to Lead Management and Marketing Automation helps users develop and leverage superior relationships to turn prospects into customers. Hundreds of companies on six continents trust the power and simplicity of Net-Results' award-winning Marketing Automation Platform (MAP). To learn more visit http://www.Net-Results.com or follow @NetResults.
About SugarCRM
SugarCRM enables businesses to create extraordinary customer relationships with the most innovative and affordable customer relationship management (CRM) solution on the market. By placing the individual at the center of its solution, SugarCRM is putting the "i" in CRM and empowering people at all levels of an organization to better understand and engage with customers. Based in Silicon Valley, SugarCRM is backed by Goldman Sachs, Draper Fisher Jurvetson, NEA, and Walden International. More than 1.4M individuals in 120 countries rely on SugarCRM. To learn more visit http://www.sugarcrm.com or follow @SugarCRM.
Press Contacts:
Meredith Giersch
Net-Results
303-771-2552
mgiersch(at)Net-Results(dot)com
Jodi Guilbault
SugarCRM
415-987-4970
jguilbault(at)sugarcrm(dot)com