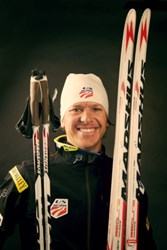 Going gluten free was probably the biggest change in my skiing career. It has improved my skiing in a huge way.
(PRWEB) February 11, 2014
As the 2014 Olympic Winter Games get underway in Sochi, Russia, the January-February 2014 edition of Gluten-Free Living magazine features a timely story on two of the United States team's athletes who are gluten-free, including Nordic combined skier Todd Lodwick, who was selected to carry the 229-member American contingent's flag in the Games' opening ceremony.
Hillary Casavant's feature, also available at http://www.glutenfreeliving.com, shows the 37-year-old Lodwick — the first six-time American Winter Olympian — as committed to his gluten-free lifestyle as he is to continuing excellence in his sport.
"One of the biggest challenges is staying healthy and being on top of my game," Lodwick, a silver medalist in Vancouver in 2010, tells Casavant. "Going gluten free was probably the biggest change in my skiing career. It has improved my skiing in a huge way, and it has enabled me to continue in an endurance sport that is demanding and that I truly love."
Lodwick adds that carrying the stars and stripes for the Americans during the opening ceremony at Fisht Olympic Stadium gives these games an even brighter shine. "Going into my sixth Olympic Games, it feels like I have already won a medal, and to cap off my career by representing the United States of America and Team USA is truly a privilege."
The story also introduces readers to short track speed skater and first-time Olympian Chris Creveling, who went on a gluten-free diet in 2012 after back pain and energy loss threatened to derail his training regimen. "It really did help both inside and out," he says.
Both athletes describe how the gluten-free lifestyle has transformed them as competitors and improved their overall quality of life. They also reveal some of their favorite gluten-free meals and snacks.
Gluten-Free Living is available at retail outlets nationwide, and by subscription. For information, visit http://www.glutenfreeliving.com.
The magazine is published by Massachusetts-based Madavor Media, whose fast-growing group of wellness-oriented publications includes Arthritis Self-Management, Diabetes Self-Management and Diabetic Cooking. Madavor also owns enthusiast magazines and web channels across several interest areas, from sports and music to surf fashion and culture. Additional titles include Jazz Times, Volleyball, Foam, International Figure Skating, The Writer, and GolfGetaways. For more information, visit http://www.madavor.com or call (800) 437-5828.
Facebook.com/gflivingmag
Twitter: @GFLiving
Pinterest: gflivingmag