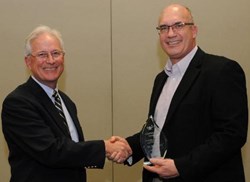 Oakwood, GA (PRWEB) February 12, 2014
The Lamplighter Award pays tribute to individuals for "sustained and exemplary service" to the poultry and egg industry.
"I am honored to have received the U.S. Poultry Lamplighter Award this year," says Dr. Tom Frost, Director of Nutrition and Research at Wayne Farms LLC. "I have a passion for research and believe U.S. Poultry is making great strides in new research for the industry. I am fortunate to be able to serve on the Foundation Research Advisory Committee and witness the daily progress."
Dr. Frost is an enthusiastic supporter of the U.S. Poultry & Egg Association's programs, having spoken several times at the organization's feed mill and environmental management seminars. He is an active member and current Vice Chairman of the the Foundation Research Advisory Committee.
Tom Frost holds a BS and MS degree in Animal Science from Brigham Young University and a PhD in Poultry Nutrition from Auburn University. Dr. Frost is a PAACO certified animal welfare auditor and has previously served on the animal welfare councils of KFC and Wendy's International. Frostis also a Diplomat of the American College of Animal Science, Animal Nutrition Discipline by the American Registry of Professional Animal Scientists.
About Wayne Farms LLC
Wayne Farms LLC is the sixth-largest vertically integrated poultry producer in the U.S. with annual sales exceeding $1.9 billion. A subsidiary of Continental Grain Company, Wayne Farms owns and operates 11 fresh and further-processed facilities throughout the Southeast, produces more than 2.5 billion pounds of poultry products each year, and employs more than 9,800 individuals.
About U.S. Poultry & Egg Association
The U.S. Poultry & Egg Association is the all-feather organization representing the complete spectrum of today's poultry industry, whose mission is to progressively serve member companies through research, education, communication, and technical assistance. Founded in 1947, U.S. Poultry & Egg Association is based in Tucker, Ga.