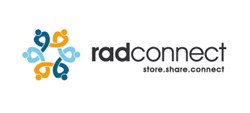 Poway, CA (PRWEB) February 12, 2014
RadConnect will exhibit in booth #7374 at the 2014 Health Information and Management Systems Society (HIMSS) Conference, which will be held at the Orange County Convention Center in Orlando February 23-27.
RadConnect is a free online solution for sharing medical images with patients, referring physicians and other facilities. It's always free to create a RadConnect account and share images. Exams will be stored for 60 days. There is no limit to the number of exams that can be uploaded or the number of times they can be shared.
The company also offers an optional cost-effective VNA solution.
HIMSS attendees can visit RadConnect in booth #7374 to learn more and enter to win an iPad mini.
About RadConnect
RadConnect makes healthcare easier for everyone. By connecting patients, physicians and facilities through easy-to-use technology, RadConnect helps facilitate better communication, which leads to better patient care. Visit http://www.radconnect.com to learn more.
About HIMSS
HIMSS is a global, cause-based not-for-profit organization focused on better health through information technology. HIMSS leads efforts to optimize health engagements and care outcomes using information technology.