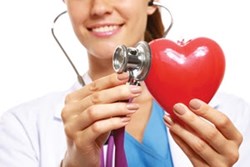 American Heart Month is an important time to raise awareness about heart disease in the U.S. Brands can help in this initiative and gain consumer trust by providing valuable information on food labels.
Denver, CO (PRWEB) February 11, 2014
Lightning Labels, leader in printing custom labels and stickers, is helping companies prepare for American Heart Month by promoting food labeling for health. Many different industries can take advantage of the month-long event to highlight certain facts with healthy stickers and labels.
"American Heart Month is an important time to raise awareness about heart disease in the U.S.," said AnneMarie Campbell, Business Development Manager at Lightning Labels. "Changing eating habits is an important way for individuals to gain control of their health. Brands can help in this initiative and gain consumer trust by providing valuable information on food labels." When companies are transparent about the nutritional information of products, they can earn the trust of consumers, making people more likely to make additional purchases.
Heart Healthy Food Labels Can Provide Nutritional Information:
Use heart healthy food labels to promote awareness about eating right during American Heart Month. Food brands can encourage more heart-healthy habits by making meal suggestions on labels. To alert consumers to heart health, brands can come up with a symbol that represents a good nutritional choice. Using the color red will align labels with other initiatives to improve cardiovascular health during February. It's a good idea to change labels for a short time to reflect the special message during this month. Brands can also reserve space on the label for helpful tips. According to the American Heart Association, it's often more healthy to prepare meals at home than it is to eat out. Another interesting tip would be to cook with olive oil instead of butter. There are many meal preparation ideas brands can provide to help consumers eat more healthfully.
Labeling Heart Healthy Food Promotes Wellness:
Labeling heart healthy food helps to spread knowledge about heart conditions. In addition to providing tips on healthy lifestyles, food labels can spread awareness about heart disease in the U.S. It could be a good idea to draw attention to the American Heart Association, where consumers can go online and find more resources for improving heart health. For certain products, it may be a good idea to specifically call attention to women's heart health. According to Go Red for Women, heart disease kills more women than cancer every year. Encourage consumers to live more healthfully by giving advice like getting at least 30 minutes of exercise every day.
Lightning Labels will offer 15 percent off online orders from February 10, 2014 through February 14, 2014, using promo code FLASH02 at checkout. Maximum discount is $1,000. Free ground shipping applies to orders placed online only and shipped within the U.S. and Canada. This offer cannot be combined with any other offers or promotion. Visit Lightning Label's homepage for more information or updated promotions.
About Lightning Labels:
Lightning Labels uses state-of-the-art printing technology to provide affordable, full-color custom labels and custom stickers of all shapes and sizes, and now offers a full line of custom packaging products. From small orders for individuals, to the bulk needs of big businesses, Lightning Labels is equipped to handle and fulfill sticker, label and product packaging projects of all types. Best of all, like the name implies, Lightning Labels provides a quick turnaround to every customers' labeling and product packaging needs. Uses for Lightning Labels' custom product labels and custom stickers include food packaging and organic food labels, wine and beverage labels, bath and body labels, and nutraceutical products, such as vitamins, essentials oils, and herbal remedies, as well as event stickers, adhesive window stickers and more. Lightning Labels strongly supports the development of environmentally friendly printing materials and carries EarthFirst PLA, a new kind of green label material made from corn instead of petroleum. While operating as a high-tech printer, Lighting Labels prides itself on its personalized customer service. Lightning Labels provides one stop shopping for all of your label and product packaging needs. For more information and to place orders online, visit LightningLabels.com. For the latest in packaging news and labeling promotional offers, find Lightning Labels on Twitter (@LightningLabels), Facebook, Pinterest, Google+ and LinkedIn.