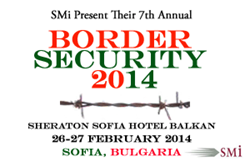 (PRWEB UK) 10 February 2014
Returning to Bulgaria, SMi's Border Security 2014 Conference, taking place on the 26th-27th of February 2014, will feature discussion on current concerns in Eastern Europe and around the world.
Conference attendees include leading border/homeland security and control, immigration, police and law enforcements specialists, foreign affairs officials and security systems providers from Bulgaria, UK, Germany, Switzerland, Romania, Hungary, Italy, USA, Canada, France, Belguim, Brazil, China, Belgium, Netherlands, Nigeria, Saudi Arabia, Czech Republic, Afghanistan, Portugal, Tajikistan and other countries.
Registered delegates include: Afghanistan Border Police, Tajikistan Border Guards, Federal Police (Belgium), Cassidian Saudi Ltd, Maritime Authority Directorate (Portugal), Swiss Border Police, US Embassy Budapest, Timisoara International Airport Romania, International Organization for Migration and many others.
Key presentations include:
Home Nation Address: Border Security System of the Republic of Bulgaria
Mr Zaharin Penov, General Commissioner, Director, Chief Directorate Border Police, Bulgaria
New Technology for Mobile control to the Border Guard Corps BGC
Pierre Wuillemin, Head of Biometrics and ID, Swiss Border Police
Borders and Borderlands - A Space of Common Interests and Common Challenges
Jon Trumble, Customs Adviser, OSCE Chairman-in-Office
Trafficking of Human Beings at the borders
Alberto Andreani, Programme Officer, OSCE Chairman-in-Office
Irregular Migration and its' Effect on Crime Worldwide
Neil Hall, AFNI, Assistant Commissioner (Retired)
Verification of the different tactics to fight against illegal activities from the seaside
Chavdar Ormanov, Osdife President, Associated Professor in Department of Navigation, Technical University - Varna
The Schengen evaluation mechanism - The new approach to evaluate external borders
Marek Adamczyk, Adviser Government Centre for Security, Border Guards
Securing EU borders with Space Assets — Myths and Reality
Adriano Baptista, Head of Operations Division, EU Satellite Centre
For more information about this event, contact James Hitchen (jhitchen(at)smi-online(dot)co(dot)uk, +44(0) 207 827 6054)
Event's website: http://www.bordersec.com
Contact for media-partners: Julia Rotar, jrotar(at)smi-online(dot)co(dot)uk, +44 (0) 20 7827 6088.