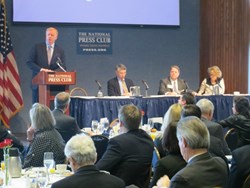 Growth in building and construction is starting now, but development will pick up tremendously in 2015. In 2016, we will be at the level we were at before the recession.
Washington, D.C. (PRWEB) February 10, 2014
Turner Construction Company hosted its annual Market Forecast Breakfast last Thursday, Feb. 6th at the National Press Club. More than 200 attendees from development, architecture and other commercial real estate firms gathered to hear experts' insights on the market outlook for the Washington, D.C. Metro area in 2014 and beyond.
For the first time, additional panelists joined Turner's standing keynote speaker, the renowned Stephen S. Fuller, Ph.D. Dr. Fuller is a University Professor and Director of the Center for Regional Analysis School of Public Policy at George Mason University. Lynn Hackney, President of Urban Pace; Nick Smith, Chief Investment Officer of First Potomac Realty Trust; and Jim Dinegar, CEO of the Greater Washington Board of Trade joined Dr. Fuller on the panel and offered their views about what's to come in the commercial and multi-family residential sectors. The panel was moderated by Mr. Dinegar.
Dr. Fuller opened the program by announcing that we will finally begin to see the fruits of economic recovery in 2014. Although recovery officially began in June 2009, we are just beginning to see that "all efforts are going in the same good direction." He continued, "We are going to see extra growth because of what consumers didn't buy in past years." Each of the panelists agreed that the best is yet to come. Dinegar cited several game-changers that will be central to the DC Metro Area's imminent economic rise, including the opening of WMATA's Silver Line, Big 10 football coming to The University of Maryland's Byrd Stadium, Washington D.C.'s Convention Center Hotel's opening, the approved MGM 19-story casino just outside of National Harbor, and the growth of the cyber security technology industry, especially centered on Fort Meade in Maryland. Though things are looking up, the DC area won't start to see the full effect of the economic recovery until 2015 into 2016. As Dr. Fuller said, "Growth in building and construction is starting now, but development will pick up tremendously in 2015. In 2016, we will be at the level we were at before the recession."
With respect to trends in the residential market, Hackney observed that, "The condo market in Washington, DC is very good, with strong sales across the board and some submarkets up more than 25 percent over the same time last year. Millenials are the primary buyers right now." Hackney shared her view that the sweet spot for buyers is between 31-34 years of age "when young people feel their careers are stabilized and they are committed to living in this city for at least three to five more years." Hackney continued, "What we are not seeing is the empty-nester buyer, but I would argue it's both a demand and a supply issue." If the question is rent vs. buy, Hackney says the answer right now is "indisputably: buy. The advantage of buying a condo over renting a Class A apartment in D.C. is currently 18-25 percent, and that's before the mortgage interest tax deduction. The mortgage on a $350,000 condo is likely to be $200-500 per month less than rental cost on a Class A apartment." Hackney concludes by saying, "Purchasing right now is the best I've ever seen in my entire career."
Smith followed with his take on commercial office trends, acknowledging the prevalence of open office cubes, shared space, and teleworking. Smith believes these trends will subside, and even reverse - "With the labor market as it's been, the open office thing is appealing. But as the labor market gets better, I believe we'll see companies leasing more space to accommodate employees with offices. People want offices, and companies will want to keep their best people." As for teleworking, Smith doesn't think that it will replace office space altogether because, "People need to see each other face-to-face." Smith then described his firm's development strategy. "We believe live-work-play is important; we think that huge office buildings in the suburbs will die a slow death. For this reason, we are focusing on locations near Metro stations downtown – including near the Verizon Center and the CBD [central business district] – that's where young workers want to be. We have invested in the Union Station area because it is a big draw, with 100,000 people a day visiting the shops and thousands more using the multi-modal transportation system including the new bus terminal, Metro's Red Line, Amtrak, VRE, and MARC ."
At the close Ken Jones, General Manager for Turner Mid-Atlantic, mirroring the sentiments of the crowd, noted that it was great "to leave this Market Forecast Breakfast feeling inspired by the possibilities of the future."
About Turner Construction Company
Turner is a North America-based, international construction services company. Founded in 1902, Turner first made its mark on the industry pioneering the use of steel-reinforced concrete for general building, which enabled the company to deliver safer, stronger, and more efficient buildings to clients. The company continues to embrace emerging technologies and offers an increasingly diverse set of services. With an annual construction volume of $9 billion, Turner is the largest builder in the United States, ranking first in the major market segments of the building construction field, including healthcare, education, sports, commercial, and green building. The firm is a subsidiary of HOCHTIEF, a publicly traded company, and one of the world's leading international construction service providers. For more information please visit http://www.turnerconstruction.com.
About HOCHTIEF
HOCHTIEF is one of the most international construction groups worldwide. The company delivers complex infrastructure projects, in some cases on the basis of concession models. The Group operates in the transportation infrastructure, energy infrastructure and social/urban infrastructure segments as well as in the contract mining business. With nearly 80,000 employees and a sales volume of more than EUR 25 billion in FY 2012, HOCHTIEF is represented in all the world's major markets. With its subsidiary Leighton, the Group is market leader in Australia. In the USA, the biggest construction market in the world, HOCHTIEF is the No. 1 general builder via its subsidiary Turner and, with Group company Flatiron, ranks among the most important players in the field of transportation infrastructure construction. Because of its engagement for sustainability, HOCHTIEF has been listed in the Dow Jones Sustainability Indexes since 2006. Further information is available at http://www.hochtief.com/press.
###