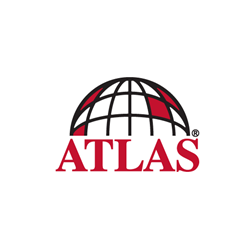 These technology advantages on the three high performance shingle lines come in addition to Scotchgard™ Protector, which provides a Limited Lifetime Warranty against algae streaks
Atlanta, GA (PRWEB) February 12, 2014
Atlas Roofing Corp. will be displaying its full line of roof components at the 2014 International Roofing Expo (IRE). The show, to be held Feb. 26-28 at the Mandalay Bay Convention Center in Las Vegas, is the foremost roofing construction and maintenance event in the nation.
The theme "Four Of A Kind Wins" is more than just a pithy play on the Atlas presence in Vegas—it's also a motivating statement about what contractors can expect when they quote and install a complete Atlas Signature Select® Roofing System on residential projects. Contractors who visit Atlas booth # 2115 will find out specific details about how to "win big" by working with Atlas.
Atlas will showcase the four components of its Signature Select Roofing System, starting with high performance shingles. SBS (Styrene-Butadiene-Styrene) construction in StormMaster® Slate and StormMaster® Shake shingles ensure extreme weather protection and lasting durability. Pinnacle® Pristine architectural shingles bring added dimension with a multi-layered aesthetic appeal to any roof.
A second component of the Signature Select Roofing System, Pro-Cut® Hip & Ridge featuring Scotchgard Protector, are pre-cut to save time on the roof and enable a more consistent job every time. Pro-Cut Hip & Ridge shingles provide "peak" performance and protection in both Sunbelt and Snowbelt climates.
Atlas Pro-Cut Starter Strips, the third component on a Signature Select roof, protects the roof edge by filling in the spaces under the cutouts or shingle edges for the first course of exposed shingles. WeatherMaster® SBS Peel & Stick may also be used for eaves and valleys.
Additionally, IRE attendees will have the opportunity to learn how Atlas is changing the way contractors view roofing underlayment, the fourth component of the Signature Select System. The booth will feature the company's premier underlayment, Gorilla Guard® EVERFELT™ and SUMMIT® Synthetic, along with WeatherMaster.
HP Technology will be another highlight at Atlas booth #2115. The Atlas stamp, "Built with HP Technology", placed on Pinnacle Pristine, StormMaster Slate and StormMaster Shake shingles indicates five unique features that directly benefit roofing contractors. HP Technology helps contractors perform more efficiently, with greater profitability. These shingles are wider and longer, needing fewer shingles per square. They also have FASTAC® double sealant lines with twice the adhesion capability on shingle-to-shingle contact, allowing for 130 mph wind speed coverage. Measurements are further simplified with a larger exposure, also allowing for greater curb appeal—a major selling point.
These technology advantages on the three high performance shingle lines come in addition to Scotchgard™ Protector, which provides a Limited Lifetime Warranty against algae streaks and stains on the roof when installed with Atlas Pro-Cut Hip & Ridge shingles featuring Scotchgard Protector.
Atlas knows that what's under the roof matters, too. That's why Atlas is bringing its Techni-Flo™ Roof Ventilation System to IRE. It is engineered to allow consistent intake and exhaust airflow underneath the covering of a steeped-sloped roofing system.
Alongside its product displays, Atlas will demonstrate ProAPP™ for mobile devices. ProAPP now includes Eagleview® Technologies Quick Squares Reports to provide contractors in the Signature Select program with precise roof measurements that can be stored digitally. Roofing professionals will see how contractors in the Signature Select program can put the customer-favorite Atlas Shingle Visualizer, a component of the ProAPP, right on their own company website.
For more pre-IRE information about Atlas Roofing, visit http://www.atlasroofing.com.
About Atlas Roofing
Atlas Roofing Corporation is an innovative, customer-oriented manufacturer of residential and commercial building materials. Atlas has grown from a single roofing shingle manufacturing facility in 1982 into an industry leader with 18 plants in North America and worldwide product distribution. For more information see http://www.atlasroofing.com. Follow us on Facebook, Twitter, and YouTube to stay connected.