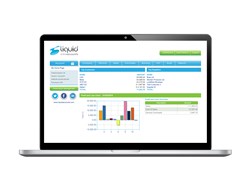 We are proud to introduce what we believe is the industry's best value online accounting range. We aim to enable SME's to eliminate painful accounting tasks and automate process to save time, money and resources.
Yorkshire, UK (PRWEB UK) 11 February 2014
Although lesser known than many, the award winning online accounting software house actually predates many of those leading industry names. The stealthy organisation has quietly but successfully owned a niche sector of the UK accounting market since 2007.
After gaining a reputation as specialists in advanced accounting for larger organisations, in 2013 Liquid turned their attentions toward the development of attractive, easy to use and intuitive solutions for smaller business.
On February 10th, 2014, Liquid Accounts launched a completely rewritten interface and new product range which included amongst others a Bookkeeper package aimed at micro SME's under the £79,000 VAT threshold. The solution has thus far been unanimously received and hailed as the missing link in the online accountancy market place, delivering such functionality, power and ease of use for the industry's lowest like for like price starting at just £7.95 per month.
Providing an alternative to the basic and beautiful, Liquid Accounts not only delivers attractive simplicity but also gives small businesses the scalability and powerful functionality that will be required as they grow into larger organisations. In a nutshell, it provides the advanced functionality of an installed package like Sage50 but wrapped up in an easy to use online system.
The modularity of Liquid Accounts means it is the perfect scalable tool for small sole traders through to multi-million pound international companies. Liquid helps take the stress out of accounting and tax time for thousands of users giving them remote control over their finances so they can concentrate on growing their business.
Jason Wright, CEO of Liquid Accounts said "There is nothing more frustrating than choosing an accounting package, entering all your data, then just a few short years later finding yourself having to perform the whole process again as you've outgrown it."
Anyone interested in trialing Liquid's new software can do so free for 30 days at http://www.liquidaccounts.com/trial. Alternatively, to find out how Liquid Accounts can revolutionise accountancy practices, please call 0845 450 7304 or email sales(at)liquidaccounts(dot)com
About Liquid Accounts (http://www.liquidaccounts.com): One of the first cloud software houses in the UK, the multi award winning Liquid Accounts is an industry leader in online accounting software for SME businesses, bookkeepers and accountants. The company offers jargon-free, easy to use software which is packed with features to enable users to save time, money and resources.
For more information please contact Emma Rushworth – emma.rushworth(at)liquidaccounts(dot)com
More images available on request.