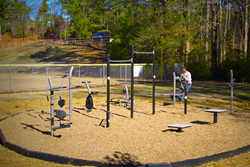 ...participants have given us extremely positive feedback on what a great addition GTfit is to the park...
Roswell, GA (PRWEB) February 12, 2014
GameTime is pleased to announce Roswell Area Park in Roswell, Georgia has been named a National Demonstration Site for Outdoor Fitness Parks. The designation was awarded by PlayCore, a Chattanooga, Tennessee-based company that helps build stronger communities around the world by advancing play and fitness through research, programs, and partnerships.
PlayCore names National Demonstration Sites based on a stringent set of criteria that ensures a community thoughtfully plans a fitness park to meet the needs of their residents, demonstrates a plan to publicize the availability and benefits of the park and regularly measures its effectiveness and impact on the community.
The fitness park features ten of GameTime's GTfit Advanced Series outdoor fitness products that provide all four elements of a well-rounded fitness program. The park was designed by GameTime and the City of Roswell to ensure adults of all fitness levels could achieve an effective workout while enjoying the outdoor surroundings.
Roswell officials took great care in selecting the right outdoor fitness products for their community. "We carefully considered many different types of outdoor fitness equipment. We were very impressed with GTfit from GameTime," said Joe Glover, Director of Roswell Recreation, Parks, Historic and Cultural Affairs Department. "We installed GTfit products at the trailhead of our most active trail system. The participants have given us extremely positive feedback on what a great addition GTfit is to the Park."
PlayCore's database of National Demonstration Sites for Outdoor Fitness can be viewed at http://www.playcore.com/fitness. Visitors to the site can submit their own fitness parks or learn how to establish an outdoor fitness park in their community.
About GameTime: GameTime is a leading manufacturer of commercial playgrounds, custom play spaces and outdoor fitness equipment. Headquartered in Fort Payne, Alabama, and with distribution around the world, GameTime has been dedicated to enriching childhood through play since our founding in 1929. Our products combine play research with thoughtful design to create playgrounds for children of all abilities. We bring together the right corporate, civic and nonprofit partners to build healthy, active communities and to make the world a better place for children and families.