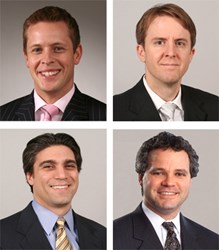 CHICAGO, IL (PRWEB) February 10, 2014
Neal, Gerber & Eisenberg LLP today announced that John A. Cullis, Lee J. Eulgen, Michael G. Kelber and Antony J. McShane, all members of the firm's Intellectual Property practice group, have been recognized in the 2014 edition of the World Trademark Review 1000 (WTR 1000). WTR 1000 is the first and only stand-alone ranking publication to focus exclusively on trademark practices and practitioners.
Neal Gerber Eisenberg's Intellectual Property practice group earned WTR 1000's silver band status for its "nuanced brand understanding and impressive team." In the Individuals: Enforcement and Litigation category, McShane earned silver band status, while Cullis, Eulgen and Kelber earned bronze band status. In the Individuals: Prosecution and Strategy category, Eulgen, Kelber and McShane earned bronze band status.
This year marks Cullis' and Kelber's inaugural appearance on the WTR 1000. Cullis was noted as "one to watch," and Kelber's "holistic approach" was endorsed by contemporaries in both the United States and Europe. Eulgen and McShane were recognized for their "deep care and precision."
Selections for this edition of WTR 1000 were based on research that included hundreds of face-to-face and telephone interviews with trademark specialists, both private practice and in-house, in more than 60 key jurisdictions globally.
Formed in 2002, Neal Gerber Eisenberg's IP group has experienced tremendous growth and now boasts 32 attorneys, of which 17 are partners and 19 are registered patent attorneys, and the group represents multinational, midsized and emerging companies, as well as start-ups and nonprofit organizations. With 9 members of the Federal Trial Bar, the IP group counsels, enforces and defends its clients in a wide array of industries, including consumer electronics, gaming, online and social media services, and restaurant and hospitality, and it focuses upon a broad range of technologies, including biotech, electrical, and mechanical arts.
The 2014 edition of WTR 1000 can be accessed at http://www.worldtrademarkreview.com/wtr1000/.
ABOUT NEAL, GERBER & EISENBERG LLP
Neal Gerber Eisenberg is a Chicago-based law firm whose lawyers share a culture of teamwork and devotion to personalized client service to advance clients' business interests throughout the U.S. and beyond. Our lawyers provide legal business solutions to public and private entities of all types in connection with domestic and global business transactions and litigation. Our client base reflects a number of Fortune 100 companies, financial institutions, nonprofits and high net-worth individuals. Although the firm has one office in Chicago, it represents clients throughout the world. A steadfast devotion to our single-office concept ensures that our clients will never get lost in a shuffle of thousands of lawyers or multiple worldwide offices. With nearly 165 attorneys, the firm is suited to handle nearly any legal matter, yet small enough so clients personally know the lawyers accountable to their matters.