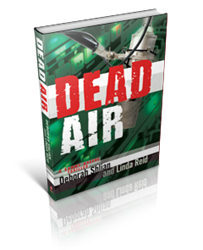 "[Dead Air] from physicians Shlian (Rabbit in the Moon with Joel Shlian) and Reid (Where Angels Fear to Tread) addresses some important medical ethics issues." -- Publishers Weekly
Longboat Key, Florida (PRWEB) February 12, 2014
Award winning authors, Linda Reid and Deborah Shlian have written a short-story tie-in to their Sammy Greene novels. Reid and Shlian have won such awards as the USA National Best Book Award and National Indie Excellence for their book, Dead Air, and the prestigious Royal Palm Literary Award for the second Sammy Greene novel, Devil Wind. A Vivid Imagination will be complimentary for Kindle eReader download from 02/12 through 02/16 at http://amzn.to/1jqck8a.
About Dead Air:
Dead Air (Oceanview, IBSN: 978-1-933515-50-2, Hardcover, Thriller, $25.95) introduces protagonist Sammy Greene. An outspoken, brash, native New Yorker, Sammy isn't afraid to ruffle a few feathers at Ellsford, her ultra-conservative New England college. The host of "The Hot Line," a talk radio show on campus station WELL, Sammy tackles the toughest, most controversial issues facing Ellsford's student body.
"When Sammy discovers the body of Dr. Burton Conrad, one of Ellsford's most esteemed professors, her journalistic drive kicks in and she sets out to find answers to what happened to the beloved professor. But when several Ellsford students mysteriously disappear, Sammy realizes she's uncovered the seamy, terrifying underbelly of this prestigious institute of higher education.
With the entire campus in peril and demons from her past close behind, Sammy Greene must race to find answers. Along the way, she'll discover some unlikely allies—and even more unlikely enemies. If Sammy isn't careful, someone is going to make sure that she signs off—for good."
About Devil Wind:
Devil Wind by Deborah Shlian and Linda Reid. Devil Wind (ISBN: 978‐1‐933515‐89‐2, Thriller, 392 pages, Hardcover, $25.95) is the second novel in the Sammy Greene series.
"An intense, atmospheric thriller set in Los Angeles, Devil Wind is a sizzling tale or murder, greed, and passion.
Fired from her job as a TV producer, Sammy Greene gets a second chance when she lands an after-midnight show at a small radio station in LA. But will Sammy's second chance be her last?
It's December 1999, days before the dawn of the new millennium. With Y2K looming and the Santa Ana winds threatening to turn the city into a fiery inferno, LA is on edge—and Sammy's listeners are burning up the phone lines predicting the end of time. When a listener calls in to report the discovery of a burned body, Sammy starts to investigate and to her horror, learns that the victim is the wayward daughter of an old friend.
As she blazes a trail to find answers, Sammy realizes that this death was no accident. All signs point to murder—murder conveniently obscured by the raging wildfires. But Sammy's investigation takes a chilling turn when she uncovers a sinister plot that could claim thousands of innocent lives.
There's evil at work in the City of the Angels. Time is running out. And Sammy Greene is playing with fire. When the Devil Wind is blowing, anything can happen. Anything."