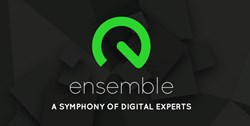 Chicago, Ill. (PRWEB) February 10, 2014
Today, Ensemble announced the launch of "Presto," a one-day digital boot camp designed for do-it-yourself entrepreneurs. Presto is a one-day crash course and an alternative to the traditional 12-week startup accelerator for entrepreneurs seeking high-level guidance in an accelerated time frame.
The new Presto program offers startups a day-long planning session that covers five business services and provides a blueprint for success in each discipline. As part of the Presto program, startups will receive assessments and plans from startup consulting and fundraising firm Red Rocket Ventures, social media agency SocialKaty, web design company Ora Interactive, public relations firm Walker Sands Communications and SEO consulting firm Loud Interactive. Based on the proven playbooks of Ensemble members' collective clients, Presto provides a low-cost "sanity check" on startups' current direction and offers suggestions on how to improve efforts and ROI.
"We're excited to offer a product that appeals to do-it-yourself entrepreneurs, who were seeking to tap into the Ensemble members' collective experience and wisdom, but in a consultative way," said George Deeb, managing partner of Ensemble. "The program is an affordable 'insurance policy' for entrepreneurs as Ensemble members review their current plans and make recommendations based on maximizing ROI."
As part of the Presto program, startups will spend the first half of the day introducing Ensemble's members to its business, current strategies and results to date. The second half of the program focuses on assessment of the company's overall business plan, revenue model, financing plan, development plan and marketing activities (including social media, SEO and public relations). At the end of this one-day program, entrepreneurs will walk out with a roadmap with which to instruct their team and independently manage execution.
"This is a way for startups who cannot afford Ensemble's multi-month startup excubator program to have an affordable opportunity to tap into the collective wisdom of Ensemble's expert team," said Mike Santoro, President of Walker Sands Communications, a member of Ensemble. "This approach allows the entrepreneur the comfort of knowing they are heading in the right direction, yet it allows them to build the solution in-house."
Presto's one-day boot camp is priced at $5,000. For more information about the Ensemble or this new Presto program, please visit http://EnsembleHQ.com/.
About Ensemble
Founded in 2013, Ensemble is a collaborative one-stop "digital services suite" of award-winning digital service providers in Chicago, each with specific and unique expertise. The current members include Red Rocket Ventures(business consulting and capital raising), Ora Interactive(technology development and design), Loud Interactive (search engine optimization), SocialKaty(social media marketing) and Walker Sands (public relations). Ensemble offers two products: its multi-month "startup excubator" designed for "do-it-for-me" entrepreneurs who desire outsourced services; and its one-day "boot camp" designed for "do-it-yourself" entrepreneurs who desire to build their own in-house teams. This all-star alliance structure better serves clients, as compared to generalist agencies, allowing member companies to stay deeply focused in their respective skill sets. At the same time, this model offers clients materially higher odds for success, given the deep domain expertise and 20 to 40 percent cash discounts available to clients that engage the collective services of Ensemble members. By Entrepreneurs! For Entrepreneurs!