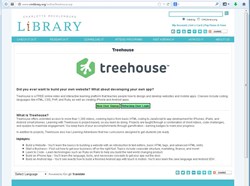 Ultimately, our goal is to make learning about technology as accessible as possible to as many people as possible.
Charlotte, NC (PRWEB) February 10, 2014
For individuals who may not know where to start when trying to learn to develop and design for the web, the options can be daunting. In Charlotte, North Carolina, one can now learn how with a public library card.
Charlotte Mecklenburg Library now offers access to Treehouse™, an online video and interactive learning platform that teaches people how to design and develop websites and mobile apps. Classes include coding languages like HTML, CSS, PHP, and Ruby, as well as creating iPhone and Android apps.
"We wanted to add an experience for our community that had tangible learning benefits for the world today," explains Linda Raymond, Charlotte Mecklenburg Library's Associate Director of Access and Organization Initiatives. "It's a given that technology skills will be required as we progress through the 21st century. Ultimately, our goal is to make learning about technology as accessible as possible to as many people as possible."
Leaders and trendsetters agree more people should learn to code. Steve Jobs was an advocate for expanding this skill to more individuals. "I think everybody in this country should learn how to program a computer because it teaches you how to think." Statistically the U.S. lags behind many other developed nations in cultivating "coding literacy." In China, every student learns computer programming. In the U.S., less than 5%. (Source: Code.org)
The access to Treehouse™ provided by the Charlotte Mecklenburg Library to its cardholders means unlimited access to more than 1,300 videos, covering topics from basic HTML coding to JavaScript to app development for iPhones, iPads, and Android smart phones. Normally the service costs $25 per month, but by signing up via library card access new members receive the opportunity for free.
Learning is project-based, so participants learn by doing. Projects are taught through a combination of short videos, code challenges, and quizzes to maximize engagement.
Highlights:

Build a Website - Learn the basics to building a website with an introduction to text editors, basic HTML tags, and advanced HTML skills.
Start a Business - Find out how to get your business off on the right foot. Topics include corporate structure, marketing, finance, and more.
Learn to Code - Learn technologies such as Ruby on Rails to help you build the next world changing product.
Build an iPhone App - Learn the language, tools, and necessary concepts to get your app out the door.
Build an Android App - See exactly how to build a finished Android app with touch & motion. Also learn the Java language and Android SDK.
The addition of this service supports the newly articulated mission of the Charlotte Mecklenburg Library: to create a community of readers and empower individuals with free access to information and the universe of ideas. To learn more, visit http://www.cmlibrary.org/online/treehouse.asp.
About the Charlotte Mecklenburg Library:
The Charlotte Mecklenburg Library is one of America's leading urban public libraries, serving a community of nearly one million citizens in Mecklenburg County, North Carolina. Accessible and welcoming to all, the Library celebrates the joy of reading, fosters learning and growth, connects people to each other and the world, and inspires individuals with what they can achieve.