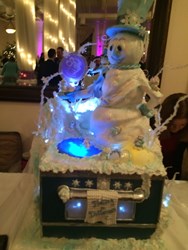 Icing images was the proud winner of the Winter Wonderland cake auction and is humbled by the opportunity to sponsor a pediatric unit full of smiles and memories. - Deborah Couglin
Winchester, VA (PRWEB) February 11, 2014
February 8, Icing Images sponsored the Winter Wonderland cake made by renowned cake decorators Peggy Tucker, Certified Master Sugar Artist, and Susan Carberry, TLCs Ultimate Cake Off winner and The Cake Cottage, for Icing Smiles' Buttercream Ball at the Historic Savage Mill in Baltimore, Maryland.
Icing Smiles, a nonprofit organization founded in 2010, invited guests to celebrate their 4,000 "smiles" milestone at this fund-raising event. Each "smile" represented a cake provided to a family impacted by the critical illness of a child. Cakes provided through Icing Smiles are donated by cake artists throughout the nation who volunteer their time and talent to families in need.
Icing Smiles Founder and Executive Director, Tracy Quisenberry hosted the event and presented a speech thanking her crew and explaining the organizations four year venture and mission to bring smiles to children diagnosed with deadly illnesses. Also presenting were mothers of Icing Smiles' recipients. In attendance were several cake artists, supporters and top executives from Domino Sugar.
During the event, attendees bid on cakes, sports memorabilia, trips and other prizes to raise money for the foundation. Icing Smiles auctioned a sponsorship to have the event cakes brought to Mt. Washington Pediatric units for the kids to enjoy.
"Icing images was the proud winner of the Winter Wonderland cake auction and is humbled by the opportunity to sponsor a pediatric unit full of smiles and memories. I would like to thank Icing Smiles, Peggy Tucker and Susan Carberry for the wonderful opportunity to sponsor a whole bunch of smiles. Thank you for allowing us to be a part of the memories that the Winter Wonderland cake will create." – Deborah Coughlin, Icing Images owner.
The Winter Wonderland cake featured a snowman, icicles and snow on top of an oven. The snowman was surrounded by a slide that allowed penguins to slide down to a pond make from Isomalt. The oven was covered with Icing Images Premium Blue luster sheets which were also used on the snowman's hat. The hat was also adorned with Icing Images Premium Icing Sheets™ made in to snowflakes by cutting them with the Spellbinders® Sweet Accents™ from Icing Images. Tucker adorned the cake with Isomalt icicles and created the Icing Smiles logo that topped the cake using an edible image of the organization's logo printed on Icing Images' icing sheets and encased in Isomalt. The penguins sliding down the cake were created by Carberry. The cake also featured an Isomalt igloo that glowed and a towel hanging from the oven handle embroidered with the message "Baking a Difference."
Tucker and Carberry assembled most of the cake in their hotel room, but faced many challenges prior to delivery. In the spirit of a television cake competition, several things went wrong during the cake's construction. The tube designed to dispense icing snow out of the top of the snowman's hat clogged and dispersed snow everywhere once cleared. The height of the cake presented a problem in transporting via personal vehicle, resulting in delivery by cab. Final details of the cake were assembled onsite following a bumpy ride to the event.
"It would not be possible for Susan Carberry and I to do amazing volunteer work without sponsors like Icing Images. We are very grateful to be given this opportunity." - Peggy Tucker, School of Cakeology.
Icing Images has been a leading distributor of edible photo and edible paper art supplies for over a decade, offering edible ink printers, edible ink, icing sheets, and electronic and die cutters to retail bakeries, home bakers and cake decorators.